"These are the Voyages..."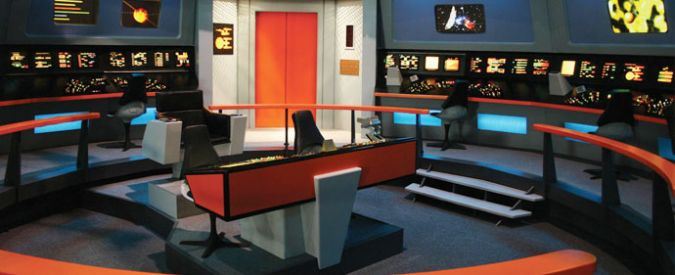 By Philip Schweier
January 21, 2015 - 15:25
Like many of my generation, I grew up watching Star Trek, and followed all its various incarnations. Some I enjoyed more than others. However, I never dreamed the bridge of the starship Enterprise could be found within easy driving distance from my home.

In a small town in South Georgia sits a warehouse, which is the (sometimes) home of Starship Farragut and Star Trek Continues. Both are web series produced by tech-savvy fans with access to an entire galaxy of CGI capabilities.

CBS Paramount Television, owner of the Star Trek franchise, permits the development of such projects on the condition that they are non-profit. According to Vic Mignona, who spearheads Star Trek Continues, CBS prohibits anyone making money from its property. "As long as a production or person does not monetize Star Trek for profit, they are left alone. That's how all the Star Trek fan productions exist," he says.

Both series are available for viewing through their respective websites (www.starshipfarragut.com and www.startrekcontinues.com), or streaming on YouTube.

Starship Farragut
Navy veteran John Broughton leads the production team for Starship Farragut. He launched the series in July 2005, inspired by another online series to create his own webisodes. As creator and executive producer, he is responsible for all activities related to the show. It features the crew of the USS Farragut (a sister ship of the original Enterprise) led by Captain John Carter (Broughton).

Like the original Star Trek series, many of the episodes center around a trio of officers: Captain Carter (Broughton), science officer Cmdr. James Tackett (Michael Bednar), and chief engineer Cmdr. Michelle Smithfield (Holly Bednar).

So far, four full-length live-action episodes have been produced. A fifth episode, entitled "The Crossing," wrapped in November, 2014, and is currently in post production. In addition, there has been three "vignettes," and two animated episodes styled after Star Trek: The Animated Series.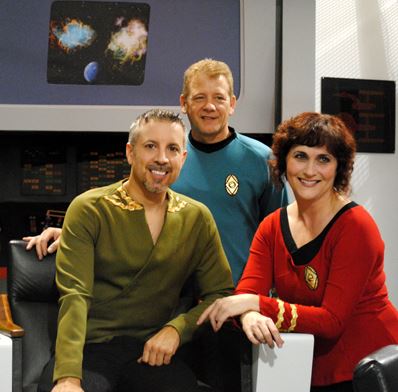 John Broughton, Michael Bednar and Holly Bednar of Starship Farragut

Starship Farragut led Broughton to create a new company, Farragut Films. It is a full-service film and video production company based primarily in the Washington, D.C. area. Michael Bednar, as the company's vice president, directs all day-to-day activities in the company and is responsible for efficient operations management and quality of company productions.

Bednar is also the mastermind behind the most authentic recreation of the Star Trek sets. To the delight of colleagues and fans alike, he has taken the lead role in detailing set furnishings with an unrivaled attention to detail. His special effects and electronic skills add believability and realism to Starship Farragut's 23rd-century equipment. In 2009, Farragut Films established a studio facility in Georgia, allowing many of its sets to remain standing for greater use.

Broughton invited Vic Mignona to direct its third episode, "The Price of Anything." A lifelong Star Trek fan, Mignona is also known as the voice of Edward Elric in the English language version of the animé series, Full Metal Alchemist. In addition to directing the episode, he guest-starred as Captain Jim Kirk.

"We had a great time," Mignona says. "We hit it off and became friends, and I had been wanting to start a series myself, so I asked them to partner up."

The partnership has enabled both parties to achieve a level of production that rivals that of the original Star Trek series. "I believe we've set a very high standard," says Mignona, "and that kind of quality draws talented, quality people."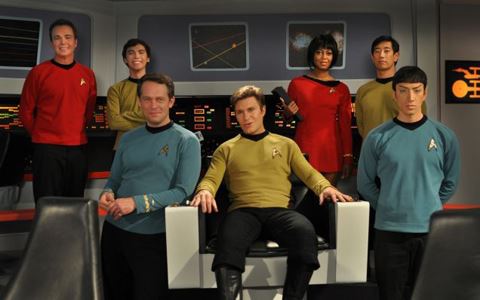 The cast of Star Trek Continues, led by Vic Mignona (center)

Star Trek Continues
Star Trek Continues tells the adventures of the Enterprise during the remaining two years of its five-year mission. According to Wikipedia, the series was financed through a "Kirkstarter" campaign in the fall of 2013. Its goal was $100,000 to cover the production costs of three episodes. More than $126,000 was raised, leading to the promise of more episodes.

Last weekend, Mignona & Co. launched a second Kickstarter to finance more episodes. "We currently shoot two episodes per year," says Mignona. "We'd love to do more, but we are constrained by things like money, people's schedules, and good stories!"

When Mignona launched STC, he hand-picked each member of the cast. "They are all talented actors in their roles and great friends as well. I never wanted to make STC with hired hands… I wanted to make it with friends."

In his role as Captain Kirk, Mignona channels a young William Shatner minus the exaggerated dramatic pauses caricatured by many a stand-up comedian. Todd Haberkorn, also an animé voice artist, plays Spock. Dr. McCoy is portrayed by Larry Nemecek in the first two episodes and Chuck Huber in the third.

The cast also includes Grant Imahara of Mythbusters as Lt. Sulu, and Christopher Doohan as Scotty, the role his father, James Doohan, originated on the original series. Kim Stinger and Wyatt Lenhart play Uhura and Chekhov, respectively.

A new addition to the regulars is Michelle Specht, who plays the ship's psychiatrist Dr. Elyse McKennah, a precursor to the Deanna Troi character from Star Trek: The Next Generation.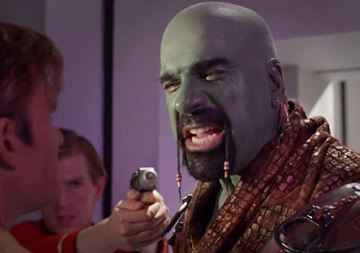 "Don't make me angry." TV veteran Lou Ferrigno guest stars a green, hulking Orion slave trader.
Joining the cast of talented regulars are faces familiar to fans of classic sci-fi TV shows. Jamie Bamber (
Battlestar Galactica
), Erin Gray (
Buck Rogers
), Lou Ferrigno (
Incredible Hulk
) and Daniel Logan (young Boba Fett in
Star Wars: Attack of the Clones
). Marina Sirtis and Micheal Dorn of
Star Trek: The Next Generation
also lent their talents as the voice of the
Enterprise
computer.
"We're hopeful to have more Trek royalty as guest stars in the coming episodes," says Mignona, "if the story calls for it. The most important thing to STC is STORY STORY STORY."
The show's production values are just as impressive, not only in terms of sets and costuming, but also lighting, cinematography and music cues. Mignona credits to the gifted efforts of his director of photography Matt Bucy.
"He's a genius," he proclaims. "He and I had many discussions about what we needed to do to capture TOS as closely as possible. My lifelong love of the show gives me a very strong vision about what I want it to look like as well. So between us, I feel like we've pretty much accomplished what we set out to do."
The first episode was a sequel to "Who Mourns for Adonais?" an original series episode in which the Enterprise encounters the Greek god Apollo. In "Pilgrim to Eternity," the crew meets Apollo once again, now powerless and decidedly older. Michael Forest, who played Apollo more than 40 years ago, returns to reprise the role.
The second episode, "Lolani," is the story of an Orion slave girl rescued by the
Enterprise
. Faced with a moral dilemma, Kirk must choose between sending her back to a life of slavery or defending her freedom, which would create an interstellar incident.
The third installment is a sequel to "Mirror, Mirror," one the most popular original episodes. "Fairest of Them All" is set in an alternate universe, in which Spock leads a mutiny against Kirk and takes control of the
Enterprise
.
So far, all of the episodes have been set aboard the starship, but there are plans to explore strange new worlds. According to Mignona, the fifth episode will be set predominantly off the ship.
Mignona adds, "Our hope is to do as many (episodes) as we can for the next five years or so, moving our crew toward where
Star Trek: The Motion Picture
picks them up."
With such ambitious productions underway, inevitably fans may wish to get involved. Mignona says the best way to help is definitely to support the
Star Trek Continues

kickstarter campaign
, now underway. "Apart from that, one could send resumes outlining their particular area of expertise or interest to our website, and our production manager can contact them if there's a position available in forthcoming episode productions."
Last Updated: September 6, 2021 - 08:15