Comics / Comic Reviews / More Comics
Star Trek: Waypoint TPB comics review
By Leroy Douresseaux
January 30, 2018 - 23:24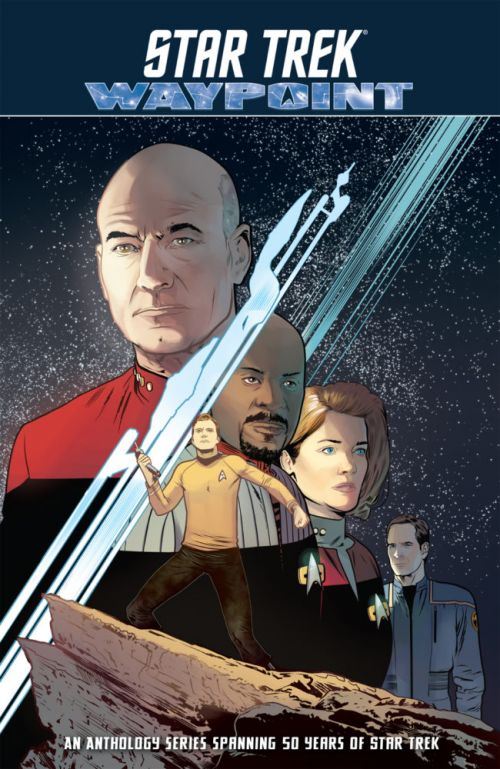 Star Trek Waypoint trade paperback cover image
When it debuted on NBC on September 8, 1966, the science fiction television series, "Star Trek," was like nothing that came before it. Created by Gene Roddenberry, "Star Trek" followed the USS Enterprise (NCC-1701), a "starship," as it traveled through the Milky Way galaxy during the future-decade of the 2260.
The series depicted the adventures of Enterprise's crew, led by Captain James T. Kirk. Kirk was assisted by six prominent crew members: first officer and science officer, Spock; chief medical officer, Leonard "Bones" McCoy; chief engineer, Montgomery "Scotty" Scott; communications officer, Nyota Uhura; helmsman Hikaru Sulu; and navigator Pavel Chekov.
When NBC broadcast Star Trek's final episode on June 3, 1969, fans of the television show refused to let it go. In a sense, that ending was the beginning of what is a five-decade old, worldwide, multi-platform media franchise. One of those platforms is comics, beginning in 1967 with the publication of Star Trek comic books by Gold Key Comics.
IDW Publishing is the current license-holder (since 2006) with the rights to produce and publish comic books based on the various Star Trek films and television series. Last year, IDW announced
Star Trek: Waypoint
, an anthology comic book series that would offers stories featuring the crews and characters from the first five Star Trek television series: "Star Trek (The Original Series)," "Star Trek: The Next Generation," "Star Trek: Deep Space Nine," "Star Trek: Voyager," and "Star Trek: Enterprise."
In November 2017, IDW published the trade paperback,
Star Trek: Waypoint
, which collected the comics short stories published in Star Trek: Waypoint issues #1-6. This collection reprints 12 stories and features the creative efforts of more than 40 writers, artists, colorists, and letterers.
Story highlights include "Puzzles," which is set in the world of "Star Trek: The Next Generation" and finds Captain Geordi La Forge and his crew of Datas taking on a massive cube-shaped starship and its obstinate artificial intelligence. Original Trek character, Lt. Uhura makes a surprising and curious friend in"Daylily." Science and coffee save the day in the "Star Trek Voyager" in the story, "The Wildman Maneuver."
The crew of the "Deep Space 9" try to understand Bajoran tradition in "Mother's Walk." Captain Jonathan Archer ("Star Trek: Enterprise") discovers "The Fragile Beauty of Loyalty." The unknown and the new and Spock's replacement vex the crew of the classic "The Original Series" crew in "The Fear" (a "Star Trek: Phase II" story).
THE LOWDOWN:
I vaguely remember the Star Trek: Waypoint miniseries (2016-2017), but I mostly ignore Star Trek comic books. Over the decades that I have read comic books, I have read a few Star Trek comic books, here and there, but I never really warmed to them. When IDW sent me a copy of the Waypoint trade paperback for review, I kinda looked forward to reading it. I forced myself to start with the first story, which I hoped would build some momentum that would help me read the entire book.
Wow, was I shocked. I didn't know that Star Trek comics could be as good as the stories contained in this book. I consider five of the twelve stories: "Puzzles," "Daylily," "Mother's Walk," "Come Away Child," and "The Fear" to be great stories that would be worthy of being turned into episodes of their respective Star Trek TV series – if those series were still being produced. Two other stories, "The Fragile Beauty of Loyalty" and "The Rebound Effect" are close to being exceptional. The five other stories are of varying degrees of quality – novel, funny, and offbeat.
"Puzzles" is the first really good story I have read that is written by Donny Cates, who became a hot property off his Image Comics vampire comic book, Redneck. I read the first two issues of Redneck and the first issue of Cates' Babyteeth (AfterShock Comics), and none of them impressed me. So I was was pleasantly surprised by the imagination of "Puzzles."
I adore "Daylily," which is written, drawn, and colored by Sandra Lanz and lettered by Andworld Designs. The story reminds me of the short-lived NBC Saturday morning animated series, "Star Trek: The Animated Series," which I loved as a child. Plus, this story stars my sci-fi fantasy boo, Uhura.
I highly recommend this book to people who read Star Trek comic books. I would also suggest that Trek fans in general give this book at least a cursory glance. I think that will be enough to encourage one to purchase Star Trek: Waypoint.
I READS YOU RECOMMENDS:
Star Trek fans of all stripes will want to check out
Star Trek: Waypoint
.
A
9 out of 10
Rating: 9 /10
Last Updated: August 31, 2023 - 08:12