Comics / Comic Reviews / More Comics
Boneyard Vol. 6
By Zak Edwards
June 27, 2010 - 14:35
The latest volume of Richard Moore's take on the tropes of the horror genre continues in a different vein this time around, opting for an almost completely action free, character driven story instead of relying on action sequences to fill certain gaps, a criticism which could be made of the last volume. This volume, therefore, depends almost entirely on the strengths of the supporting cast Moore has been building considerably for the past while. Almost every character appears in this volume in some important capacity, each contributing a voice and purpose to the story rather than either occupying the background or becoming useless cameos. Moore has strived to keep the supporting cast both essential and rounded, and this story is almost a point he can brag about because of the growing importance he has placed on these characters. Of course, human inheritor Paris and his vampire romantic interest Abbey take center stage for the majority of the volume, but what series would be complete without a male having to escort around a roofied romantic interest? Also, probably obvious from this last sentence, Boneyard continues to be a book probably not for the younger audiences as some of the humour relies on either a knowledge of being intoxicated or some sort of sexual experience.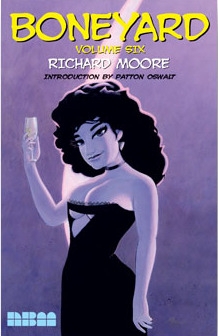 This issue is a few things for Richard Moore's work, namely one of the funniest volumes to date, as well as one in which his cast of characters are able to display how rounded they are, even in the sometimes brief time they appear. Basically, Paris's impassioned speech at the end of the volume, defending the inhabitants of the boneyard to a celestial authority, sums up everything: "They're good people... just trying to live their lives." That is what these characters are doing: just living their lives in extreme situations, and this is why the series plays so much like a sit-com. This volume, even more so than the others, feels like a half-hour of television and, while it doesn't rely on the building humour as much as the others, has some very funny moments throughout. While I thought Abbey being roofied by her nemesis would wear pretty thin fairly quickly, this is not the case. Moore continually finds new ways to make her inebriated state funny through a combination of quick one-liners and continual themes in her drunkenness. Paris's attempts to make sure she doesn't cause too much of a ruckus is a relief in ways as well, as the relationship between these two characters is stereotypical and extremely familiar in many ways, the way these characters interact sometimes avoids the cliches they exist in. In particular, Paris and Abbey are actually friends and have fun together in a genuine fashion, they get along without melodramatically focusing only on the fact they are not together. The way Paris helps Abbey out is in a genuine manner, and he treats her with respect and dignity, looking out for her as a friend. In little ways, the two characters break the mold, which helps in times when they are so completely within the cliches without any relief in sight, such as when lines like "You don't have to be all seeing to recognize some things" are followed by knowing glances. Well, almost bearable.
Thankfully, the supporting cast occupy some fun places, if only one-dimensional in motivation at times. Nessie the nymphomaniac swamp monster, for example, is simply occupying a sort of juvenile rebellion role for much of the book, but has some genuinely funny moments. Ralph, the werewolf and a few others, however, really shine, coming through at some critical times and providing laughs as well, really proving the 'good people' aspect of the book. Almost every character is present in this volume in some capacity, each occupying a necessary part of the story, even if their contribution is ultimately fruitless. The characters are universally redeeming, even if their good intentions are clouded by their character flaws and obsessions, but it is precisely these traits which makes the story work. In ways, this short, three issue story is the most ambitious of the series yet because of the reliance solely on the charm of the cast without any saving moments to distract if the quality began to slip. But the story is strong throughout, and Moore's risk pays off.
Moore branches more in the art department here as well, using some strange settings and moments to really show off. The trans-dimensional travel scene is very cool and stylistically very different, and similar scenarios allow for some more of these more beautiful deviations from a cartoon strip style. As the book takes place almost exclusively in another dimension occupied by various supernatural characters, Moore is having a great amount of fun with the backgrounds and creatures inhabiting these backgrounds. The demons and other creatures kicking around are all very fun to look at, as is the many ways he arranges them without relying on silly things like gravity. I almost wish Moore drew some more splash pages to really get a good look at all his creatures and backgrounds. My single complaint with his art takes place in outdoor scenes, where the lack of background can really confuse the higher action shots, obscuring what is going on in the scene entirely. Sometimes I feel like I'm staring at a black-and-white Jackson Pollack painting until I realize what Moore is trying to communicate. But overall, the writing and art of this book is both highly entertaining and well done in every department. Unfortunately, the final volume comes out next month, and then Paris, Abbey, and the rest of the Boneyard are gone and buried.
Last Updated: January 24, 2022 - 11:00