Comics / Comic Reviews / DC Comics
Blue Beetle #1
By Hervé St-Louis
September 26, 2011 - 21:48
Jaime Reyes wants to go to the party of one of the most popular girl in town, but his parents won't let him go. He sneaks out and goes with his friend only to stumble in the middle of a fight with a bunch of super humans that are trying to get a backpack containing a blue beetle of high value. Somehow, it's Jaimes who ends up with the packages that gives him the powers of the Blue Beetle. But will he keep them for long?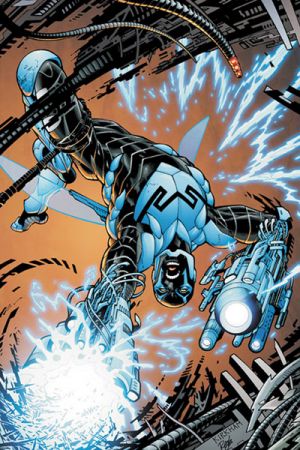 The problem with reboots like 52 for some newer characters is that it effectively revamps a brand new character. For older characters with much more baggage and history, this is appropriate. In this case, I feel that it's a bit overkill and the benefits are few. Sure, the writers will get to fix a few mishaps here and there, but mostly, it forces regular readers of the old series to revisit the same stories about a Latino kid getting super powers beyond his control. The story is not bad at all although the way Jaime got his powers was a bit silly. He took a bag that wasn't his and would not let go of it although he had a bunch of super villains chasing him. Why not just ditch the bag and save your life? One important poin t is how the mix of English and Spanish broke the flow of the book for a non Spanish speaker.
The better part of this issue is the one featuring the scarab artifact before it landed on Earth. It seems that they have a history with Green Lanterns as pests that need to be eradicated. This aspect of the story will return later. There was little exhibit of the Blue Beetle's powers even in the prologue when it was in space fighting aliens.
Ig Guara would be a wonderful artist if the faces he drew looked better. Jaimes' face changed from panel to panel, never quite looking the same. However, the composition was clear and interesting. The inker Ruy José also helped make the book look very solid.
Is Blue Beetle a series worth following in light of all the new series from DC Comics? It's not bad so far and has a lot of hinted future stories. However, if you don't want to go through a series about the formative years of Jaime, skip it. I it doesn't bother you or that you've never read about the character before, this series, while not exceptional is a good pick.
Rating: 8.5 /10
Last Updated: September 6, 2021 - 08:15