Comics / Comic Reviews / DC Comics
Blackest Night: Superman #3 (of 3)
By Andy Frisk
October 24, 2009 - 23:53
It's an all out slugfest and heat vision heat wave as Superman, Superboy, Alura, Supergirl, and Krypto all battle Black Lanterns Kal-L, Zor-El, Earth 2's Lois Lane and the Psycho-Pirate. Yes, Krypto is fully capable of roasting a Black Lantern with his super canine heat vision, and no it's not as corny looking as you'd think. Well, maybe it is a little humorous, but that's Krypto's role. He's a bit of a comic relief, but he does accomplish some major heroic feats, namely that of saving the life of Ma Kent. While Krypto is saving Ma, Alura and Supergirl are busy ridding New Krypton of Black Lantern Zor-El. Zor-El was Alura's husband and Kara's (Supergirl's) father. The mother and daughter team of Alura and Kara manage to rid New Krypton of Black Lantern Zor-El with the help of some Kryptonian science. Meanwhile, Superman and Superboy face off against Black Lantern Kal-L of Earth 2 and a newly risen Black Lantern Psycho-Pirate, who is wreaking havoc on the emotions of Smallville's population with his powers. He's also wreaking havoc on Connor's (Superboy's) emotions as well, but Conner is of stronger character than the Psycho-Pirate surmises…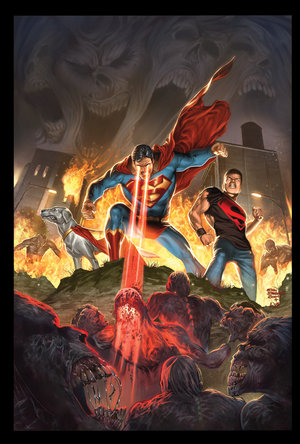 Perhaps the best, thus far, of the side mini-series to the main event Blackest Night wraps up strongly. The emotional trauma inflicted upon Kara and Alura when Black Lantern Zor-El rises, the journey Connor makes through the emotional spectrum, only to emerge stronger out of the experience, and Kara and Alura's triumph over their grief stemming from the loss of Zor-El, really makes this series one of the most powerful reads, emotionally, of the Blackest Night mini-series. This is so because the events which cause the trauma in this series are so fresh in the minds of the readers, and the characters. Watching Superman flex some muscle and literally punch the head off of Black Lantern Kal-L repeatedly is also a treat. Superman is first and foremost a hero/role model for his integrity, honesty, and sense of justice within the boundaries of the law, but watching him cut loose with his awesome superpowers is just plain fun to see sometimes.
Robinson really did a great job over the course of this series by penning a compact, concise, and action packed Superman tale that hit all of the highlights of the character, his extended family, and the events that are going on in his life right now. All the major players from Superman's titles that are actually family (with the exception of Lois and Chris Kent/Nightwing) make an appearance, and deal with the onset of The Blackest Night in their own heroic ways.
Barrows pencils remained strong throughout and Goldman's help with this final issue simply helped augment what was already an incredibly well drawn series. The iconic shots of Alura flying to the rescue of her daughter are very well done, and realistically laid out. The horrors of the Black Lanterns are truly frighteningly rendered, and Reis' colors, especially when dawn finally breaks, highlight and round out an overall great job of artistic creation.
Blackest Night: Superman has been the most enjoyable of the Blackest Night mini-series thus far. Great storytelling, and great art bring to life the great characters who we only can hope to see play more of a role in saving the universe from the threat that is The Blackest Night.

Rating: 10 /10
Last Updated: July 2, 2020 - 16:53