Comics / Comic Reviews / DC Comics
JSA Blackest Night #1 of 3
By Hervé St-Louis
January 18, 2010 - 20:18
With most of the original members of the Justice Society having dies over the years, there are a lot of dead bodies that can come back and haunt the living. The Justice Society faces an unprecedented attack by several members of its team that have perished and their numbers are overwhelming. Although all was not lost, the arrival of the first Mr. Terrific, and his incredible intellect changes everything, Will the second one be smart enough to defeat him?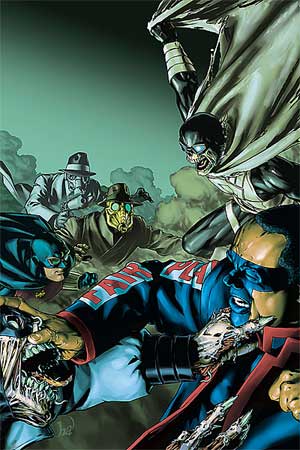 I find that many of those spin-off series are annoying and unnecessary, but this one ended up in my reading box, so I gave it a try. It was quite entertaining. I found the first few pages confusing as they introduced several of the dead JSA members with little introductions that instead of helping readers not familiar with the material confused them. I'll make a general statement here. Why is it that the Blackest Night version of regular series so much more fun to read than the regular series? Is it because the stakes are much higher and the adrenaline pumping harder? I really like how past elements of the characters' histories were meshed together to create a single narrative where the living guys battle the dead ones. I did find that the innocent bystander body count was quite higher than previous DC Comics blockbuster. Is this a sign to come similar to the body count in villains witnessed last year in Marvel Comics'
Secret Invasion
?
Barrows and Marz are a good, but the real stars of this book are the inkers who created a powerful story with but black ink. The art of inking is slowly being depreciated and it's good to witness a comic book that shows why comic book inking makes such a difference in how well a story look and how to establish mood.
Rating: 9.5 /10
Last Updated: January 24, 2022 - 11:00