Comics / Comic Reviews / DC Comics
Blackest Night #3 (of 8)
By Andy Frisk
September 17, 2009 - 16:29
Blackest Night #3 starts out with a sort of lover's spat between Jason and Gen over Gen's desire to get engaged. Jason and Gen are the young adult pair that fuse to form the superhero Firestorm. Next we are served up more Black Lantern (DC Zombie) vs. DC Heroes battles. More of the same stuff right? Wrong. This time we actually start to get some answers to what the black power rings are, how they are working (a pretty interesting use of real life scientifically theoretical ideas of dark matter), who The Indigo Tribe are and how their power lanterns work, what is really going on behind the prophesy of the Blackest Night and the War of Light, how this battle can be fought and potentially won, and just how insightful and important Barry Allen/The Flash and Hal Jordan/Green Lantern's friendship is. Finally, the lover's spat between Jason and Gen becomes a bittersweet moment upon reflection, simply because they may never be capable of having one again…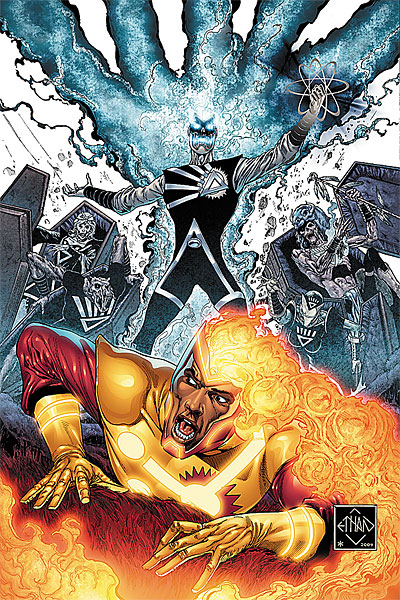 Variant by Ethan Van Sciver.
After two issues of Black Lantern (again, DC Zombie) posing and parading, Blackest Night finally gets down to the telling of the story. This is Johns at his best yet again, and in yet another DC Comics title (his Superman storyline right now is the best storyline in all of comics). His Hal, Barry, Jason, Gen, Ray and other hero characters are believable, relatable to, and lovable. The friendship and interaction between Barry and Hal is so realistic that it's compelling. Who hasn't had to step in and tell one of their best friends that they were wrong and needed to step back and reconsider their course of action? Who doesn't understand that only one's best friend say these things to someone? Nearly all of us have been in this position once or twice in our lives, and Johns recreates this moment between Barry and Hal very realistically.
Johns also gets down to the heart and soul of the tale, revealing the motivating powers (if not definitive villain…yet) behind the War of Light. It's as simple as, and at the same time as profound as, the battle between The Light and The Dark. This is what Final Crisis was supposed to be, but failed to be on many fronts. While Final Crisis focused on the question, 'What if evil won?' Blackest Night focus on the never ending battle and the toll it takes.
Reis and company compliment Johns' storytelling very well with their work. In particular the full two page layout where Indigo 1, The Indigo Tribe's leader, lays it all out for the heroes and the reader, is spectacular. The scene between Barry and Hal is also particularly well done with Barry and Hal's facial expressions very realistically rendered. You can see the concern in Barry's eyes. That's a feat not always pulled off in superhero comics but has been happening in Green Lantern and Blackest Night books recently as a telltale sign of these series' great artwork.
Overall, Blackest Night is now becoming worthy of sharing he moniker of 'Event of The Year' at DC Comics, along with World of New Krypton, according to this reviewer. It's had great art from the beginning, but the story took a while to kick in. Now it's firing on all cylinders, or glowing in all spectrums, if you will, and I can't wait for the next installment.

Rating: 10 /10
Last Updated: August 31, 2023 - 08:12