Comics / Comic Reviews / Marvel Comics
Black Widow #1
By Andy Frisk
April 29, 2010 - 23:10
Natasha Romanoff, The Black Widow, meets with an old comrade spy from her Soviet operative days named The Black Rose. She's seeking information from him regarding a black rose left for her in an envelope with her name on it. The Black Rose doesn't have any information for her, besides the fact that he "misses her touch." Shortly thereafter, while walking back from her meeting with Black Rose, she is attacked, drugged, cut open, and has something removed from insider of her. Tony Stark (Iron Man), Logan (Wolverine), and Bucky Barnes (Captain America-and Natasha's current lover) all vow to get to the bottom of the mystery behind the attack on her.
Being nearly killed in the first issue of your new ongoing series isn't exactly how one would expect a long term Marvel Universe mainstay like The Black Widow to begin her starring run. It's a stroke of storytelling genius though as
Black Widow
scribe Marjorie Liu introduces Natasha Romanoff/Black Widow to new readers in a unique way. Liu hints at the long term history surrounding Natasha (she's at least nearly 100 years old-kept young by various knock off super soldier serums and the like) while exploring her mental and moral strength. She endures excruciating pain on the operating table after her attack, and in a flashback intervenes in an abusive relationship on behalf of a battered wife. Also, by bringing three Marvel Universe stalwart heroes, Iron Man, Wolverine, and Captain America to her bedside vowing to find out who did this to her, Liu demonstrates her standing the Marvel Universe. The intrigue generated by the introduction of The Black Rose and the mysterious nature of the attack on Natasha both set the stage for plenty of international spy/superhero action and storytelling.
Are we going to get what we were hoping for with the ill fated
Spider-Woman
in
Black Widow
? Hopefully, we will. Both characters have unique superpowers and a history of working with spy organizations such as SHIELD and HYDRA, or in Natasha's case, The Soviet Union's KGB and other organizations. Intrigue, mystery, and spy novel type adventure mixed with super heroics should be the standard in
Black Widow
(as they should have been, and regrettably won't be, in the cancelled
Spider-Woman
). Alas,
Spider-Woman
never really got beyond the opening chase sequence, sadly, and didn't have the benefit of a Wolverine cameo until its last issue. What really sunk
Spider-Woman
though was the lack of a strong plot. But, I digress…
Black Widow
looks to correct, or at least avoid, these mistakes early on.
Something
Black Widow
does have in common with
Spider-Woman
is some really great artwork. Daniel Acuna, who's last ongoing series assignment,
Eternals
, (which folded way too early without getting a real chance to succeed) brings his unique style and approach to Natasha's story. His semi photo realistic work brings to life a realism that is on par with Luke Ross and Butch Guice's work in
Captain America
. Acuna though does much more with color and motion that Ross and Guice do. The scenes of Logan on his ever present motorcycle streaking through the nighttime lit streets of New York has the quality of a slow exposure shot of a real motorbike riding down a real street. Acuna is fully capable of creating more than just realistic vehicle movement though. He has a firm grasp on anatomy, fight choreography, and a variety of settings, all of which will be integral to chronicling Natasha's multifaceted adventures.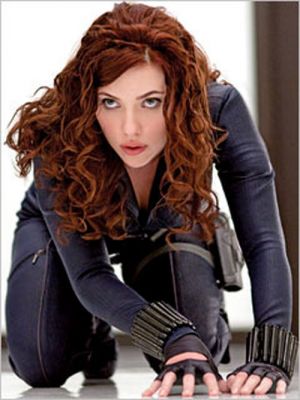 Scarlett as Natasha...can you say, ooh yeah!
Black Widow
starts strong, and looks to develop nicely into a worthy series worth following. Natasha Romanoff really hasn't been portrayed as a solo lead type of character in the past. She's been oft regulated to the part of an established hero's supporting cast, mostly as a love interest. So launching her into her own title must be seen as a bit of a gamble. If she maintains a supporting cast of the likes displayed in issue #1 though, she'll quickly be able to take over the limelight role and eventually go it solo more often. She's definitely a character with plenty of back story and ties to several of the leading men of the Marvel Universe, so there should be plenty of fodder for storylines and guest stars.
Rating: 9 /10
Andy Frisk is a music and comics journalist living in South Carolina.
Last Updated: September 6, 2021 - 08:15