The Black Widow book review
By Leroy Douresseaux
January 28, 2017 - 18:48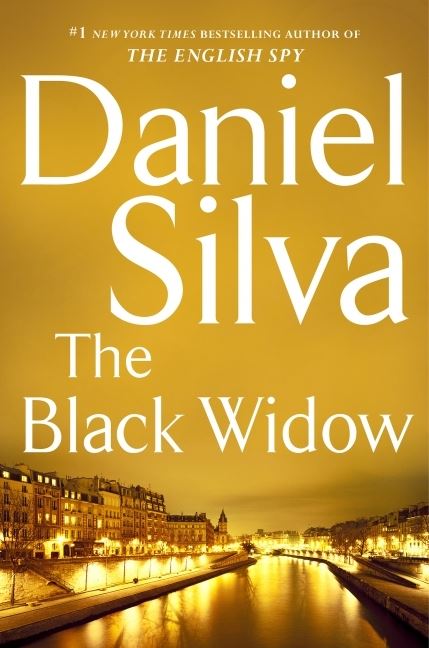 The Black Widow book cover
The Black Widow
is a novel from American author
Daniel Silva
. It is the most recent entry in Silva's "Gabriel Allon series," which began with
The Kill Artist
(2000).
Gabriel Allon
is a legendary spy and killer for the Israeli secret service, and in his downtime, he restores works of art, especially paintings. In The Black Widow, Allon grapples with an ISIS mastermind.
The troubles in The Black Widow begin in France. First, there is the "Toulouse attack," in which three Jewish children are brutally assaulted in what is clearly a hate crime. Then, in the Marais district in Paris, a massive vehicle bomb destroys the "Isaac Weinberg Center for the Study of Anti-Semitism in France" (the Weinberg Center, for short). In both attacks, the refrain "Khaybar, Khaybar, ya-Yahud" is heard.
For Gabriel Allon – the art restorer, spy, and assassin – this is personal. Longtime friend and ally, Hannah Weinberg, was killed in the Paris attack. Allon is poised to become the chief of Israel's secret intelligence service, but on the eve of his promotion, he is forced to take on one final mission. The French insist that he find the ISIS mastermind behind the attack on the Weinberg Center.
They know the name the mastermind uses, Saladin, but they know nothing else about him. They do know the name of the woman who was in Marais to lead the bombing and killing, Safia Bourihane. She is a "Black Widow," a woman willing to kill and even where a suicide vest for the terrorist group ISIS. Now, Allon must find and train his own "Black Widow," a woman who can infiltrate ISIS and discover the identity of Saladin before he can strike again.
THE LOWDOWN:
Daniel Silva has, as of this writing, had 19 spy novels. I have only read the 16th (The English Girl) and this 19th, The Black Widow. I thought both novels were thrilling entertaining reads that were so gripping that I found them hard to put down. Each one is filled with compelling characters that form diverse casts. You really never know what kind of character will pop up in Silva's novels. I won't lie and say that everyone of them is well-developed. Most just show up to fill a need at a particular moment or moments in the novel, but they serve their purpose quite well.
Silva can be credited for his ingenious plots, but while The Black Widow has some clever twists and unexpected turns, I think that The English Girl has stronger plotting. I would even call it cunning. The Black Widow is an epic novel of international drama, but its plot is simply barreling towards an epic terror attack. That speed and intensity of that barreling ebbs and flows.
The Rocky Mountain News describe Silva's signature character, Gabriel Allon, to Ian Fleming's James Bond. I don't see that at all. For one, I view Great Britain, which Bond serves, differently than I do Israel, which Allon serves. I see Britain as the origin place of much of the art, literature, history, cultural, myth, folklore, and entertainment that I love. I see Israel as a mixture of the Jim Crow past of the United States with ambitions towards the apartheid past of South Africa.
Israel is a racist state that oppresses Palestinians, and often kills them regardless of gender and age, with seeming impunity. In the fictional world of Daniel Silva, Gabriel Allon is this apartheid state's most legendary and accomplished killer, and when you call him an assassin, that just sounds like a euphemism. James Bond is not an assassin or killer; he is a secret agent with a license to kill.
Three and half years ago, I did enjoy the summer potboiler fun of The English Girl. I had just had some winter reading fun with The Black Widow. Daniel Silva is an accomplished novelist, probably born with talent to fabricate thrillers. I just have a hard time buying in completely to the mission and purpose of his literary star, Gabriel Allon.
I READS YOU RECOMMENDS:
Fans of Daniel Silva's "Gabriel Allon" books will want a bite from
The Black Widow
.
A-
www.danielsilvabooks.com
Rating: A- /10
Last Updated: January 24, 2022 - 11:00