Toys / Comics to Toys / DCDirect
Black Adam
By Hervé St-Louis
October 24, 2007 - 13:00
Black Adam was a nemesis of Captain Marvel of equal powers granted by the wizard Shazam. Nothing more than a dark version of Captain Marvel, he first appeared in The Marvel Family # 1 in 1945 and quickly faded into obscurity. When reviving Captain Marvel for DC Comics, creator Jerry Ordway brought back Black Adam as a sinister ancient analogue to Captain Marvel revived in the present and drawing his powers from Egyptian gods. A popular villain, today, Black Adam is a vicious power house. This version of the Black Adam action figure is based on the character seen in the alternate story called
Justice
and painted by Alex Ross.
Likeness
Obviously, this Black Adam is based on Alex Ross' rendition in Justice. The face is the same and the colour scheme of his costume is black and gold, instead of black and yellow. Black Adam has the same pointed ears drawn by Ross and the arched eyebrows. Although his jaw and chin are huge, they are not as extended as the comic book version. Of course, Black Adam has a crooked nose.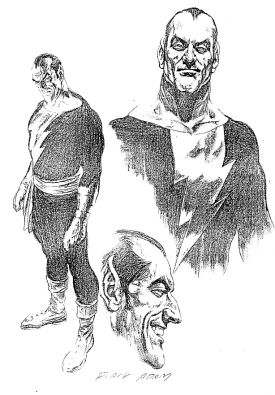 Source: Wizard
Sculpt
Compared to the previous Black Adam action figure, this one is the great. Although a rotten villain, he looks majestic and graceful. He really feels like a noble but evil man with a twisted sense of right and wrong, and little mercy. Black Adam has deep penetrating eyes and a mild smirk on his face suggesting something far more sinister than his calm exterior. Just like some early Black Adam sketches done by Alex Ross, his fists are not closed. So it's unlikely that collectors will pose him as if he were fighting. It will be hard to pose the action figure in anything but the rigid default pose. I find Black Adam to be somewhat thin, although he packs a lot of muscles. In comparison, Captain Marvel always seems bulkier.
Paint
The paint is simple as there are no washes on Black Adam's skin or costume. The golden paint application is spotless though with no spills. Highlights in his hairs or skin would have made the action figure livelier. In time the golden paint will fade if rubbed too often.
Scale
Black Adam, like most Justice action figures, is closer to seven inches than six and will tower most past DC Direct action figures. He's even taller than most Justice action figures. As Black Adam is supposed to be tall and gigantic, he can still fit with older DC Direct action figures. However, he will look out of balance with some the action figures such as the
Public Enemy Captain Marvel
.
Stability
Capable of standing up easily, the heavy chest of the character may make him topple from time to time. His soles are not exactly flat. It's suggested to use the action figure stand that comes with Black Adam to secure him firmly.
Articulation
Black Adam has 13 articulations at the neck, the shoulders, the elbows, the wrists, the hips, the knees and the calves. Although his has ball jointed shoulders and neck, his mobility feels restricted. The shoulders' articulations are loose have more range, but the hips are tight and hard to move. One can either put Black Adam in flying pose or make him stand idly.
Plastic
The PVC of this action figure is tough and heavy. But it will also scratch easily. The plastic's stock is heavy and sturdy. Black Adam's sash is made of rubber-like material.
Props
Black Adam comes with a large square action figure stand. While is it nice. This stand and all of those from the Justice series, take a lot of space and may limit the amount of action figures one can display in an area. I wish DC Direct would make more compact action figure stands.
Packaging
Black Adam is packaged in a box with a clear plastic front display. These packages look nice and are environmentally friendly, as they can be recycled easily. It's also possible to reinsert the action figure back into these packages.
Cost
Depending on the store, Black Adam can cost from $12 to $25. With the Canadian dollar going strong, Canadian collectors should punish local stores who continue to overprice their action figures by purchasing them in the United States. Although this may not make me much of a patriot, for years, local retailers hid behind the exchange rate to justify that Canadians would pay often up to $19.99 for a product that cost $12 in most American stores.
Availability
Although released over a year ago, it should be fairly easy to locate this product. If your comic book store does not have it in stock, ask them to order it from Diamond Comics or shop around. You can also find this product at several online stores and auction sites.
Last Updated: August 31, 2023 - 08:12