Superman/Shazam!: The Return of Black Adam
By Hervé St-Louis
August 21, 2011 - 09:46
Reporter Clark Kent, also known as Superman visits a young enterprising boy in Fawcett City called Billy Batson. Batson is an orphan living on his own and a good spirited boy who does good, despite his poverty. But then Black Adam, a villain as powerful as Superman attacks Batson seeking to kill his replacement. Will Billy Batson rise to the challenge and become Captain Marvel and stop Black Adam with the help of Superman?
This direct to home DVD and Blu-ray release is incredible and much different from anything published in any comic book before. It's not a long short, just 22 minutes, which is about one regular episode of a television cartoon. The one disc set on DVD comes with three other shorts, One featuring Jonah Hex, one with Green Arrow and one with the Spectre. When this was released, I never found it locally, so had to pass up for a while. This is Warner Bros Animation reinventing the DC Comics universe with fresh and contemporary features that show how cool the DC Comics is. The main feature of course is the team up of Captain Marvel and Superman against Black Adam, a villain capable of standing up to both heroes. There aren't many villains with that kind of power.
The short with the Spectre had a period feel to it with a detective music track. It took the best of the essence of the Spectre and reinvented it for the screen. I'm always amazed at how DC Comics' property sound just right in animation, where the writers, often, comic book writers have to take the best and ditch all the bad to make a character work. With stories like that, the Spectre would be a viable comic book series. Here, the Spectre redistribute vengeance against the murderers of a Hollywood movie tycoon. It's graphic and violent, and Spectre does not come off as a super hero or even an anti-villain. He's just a ghost of vengeance and it's great.
The short with Green Arrow was good and showed how good an archer he is and pitted him against his frequent foe, Merlyn. Here, the League of Assassins has been hired to kill the visiting princess, of Vlatava, heir to the throne of her homeland. Her uncle, the villain known as Count Vertigo is the second in line for the throne and wants the throne for himself. This short originally appeared in Superman/Batman: Apocalypse.
Finally there's a short with Jonah Hex, the Western maverick and anti-hero of the DC Comics universe. In this story, the bounty hunter is after a rogue called Red that has disappeared while entering a new town. It's up to Hex to find Red and the people that took him away. The story is cryptic and good, but doesn't make much sense. I wish more was explained.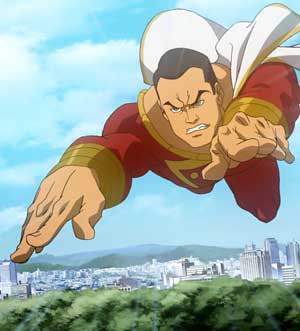 The story of Billy Batson, Superman and Black Adam cleaned up, in my opinion a lot of the mess with Captain Marvel that we find in the comic books. The good thing about this story is that is didn't give Superman too much influence over Captain Marvel. Here the two are completely differentiated. There are specific scenes that explain how their relatively similar powers differ. I like that Black Adam was enough of a match to fight both of them at the same time. The story also showed the simplicity and good within Captain Marvel and Billy Batson and that was fun. Captain Marvel was Billy Batson throughout but just a little beefed up. It's cool that the character is so simple and wholesome.
The animation in this short is great with great fighting scenes and better usage of 3D animation than in past series, such as Justice League Unlimited. The characters' design in all the shorts is also less cartoony and more realistic. It works well here fortunately. I was afraid that it might limit what could be done with the animation and its fluidity but that wasn't a problem at all.
The disc comes with several extras, including episodes featuring all the characters from other DC animated series. It's good to see the contrast between the various interpretations of Jonah Hex, the Spectre, Captain Marvel and Green Arrow. What it does is reinforces the mythos of these characters on film and create essential depictions of them that while matching those from comic books, make it easier for non hardcore fans to remember each character. We know that the Spectre is a ghost of vengeance. That Jonah Hex is a bounty hunter, that Green Arrow is a maverick that talks too much and that Captain Marvel is a magic-based super hero that's really a boy inside. I recommend this DCD/Blu-Ray release.
Rating: 10 /10
Image Gallery:

Last Updated: September 6, 2021 - 08:15