Comics / Comic Reviews / DC Comics
Birds of Prey #4
By Hervé St-Louis
October 3, 2010 - 12:05
This is the last fight between the Black Canary and the White Canary on the rooftops of Gotham City. The White Canary is clearly as superior fighter to both the Black Canary and Lady Shiva. How can Black Canary possibly defeat an opponent who promises to murder all of her loved one after she defeats the heroine? Elsewhere, Savant and Creote want to kill Barbara Gordon. Can she escape in time?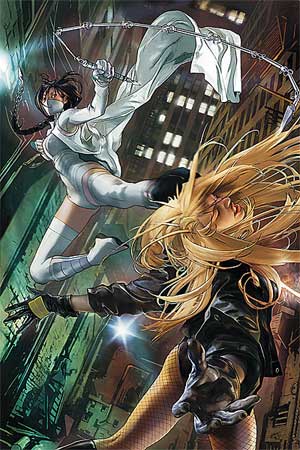 This is the issue we've been looking for in Birds of Prey for a while. In previous stories, we saw fights with top martial artists, but we never really saw a fight with a top-level opponent that clearly outclasses Dinah. We've seen Lady Shiva, but she has not fought Dinah directly. The fight was good and shows how good each fighter was. Simone's specialty is writing these kinds of stories. I liked how she explained the origin of the White Canary and that she did not use any crazy trick or time traveling stories to explain who she was. It fit in with past stories and was a thrill for readers familiar with stories from the first series. I also liked how the other characters were handled and how the Penguin is still treated as a serious threat.
Visually, it's where things fall apart. Benes has been sick and it's difficult for him to deliver whole issues. I understand that and of course am not blaming him. As he handled the fight between Black Canary and White Canary, these pages were spectacular. The weaker pages are with Melo who just isn't a compelling choice for this work. She makes the girls look all round and cutesy, but not in a way that makes the reader think they are high level fighters.
Rating: 8.5 /10
Last Updated: January 24, 2022 - 11:00