Comics / Comic Reviews / DC Comics
Review: Batman and the Signal #1-3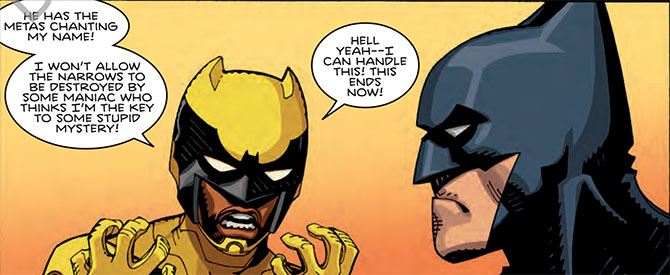 By Philip Schweier
February 6, 2019 - 14:32
For those who don't know, Duke Thomas has been brought into the bat-family. In the first issue, he is debuting on his first day as "the Signal," so named for the first knight on a battlefield. Sure, maybe in medieval times, but in the 21st century, "signal" means something completely different. It is also mentioned – by Batman, no less – that he trained as a Robin longer than anyone.
Are you Effing kidding me?! Dick Grayson had more than 40 years as Robin. Jason Todd, Tim Drake and Damian Wayne have more cred as Robin than this usurper.
Nevertheless, Batman give Duke his own secret lair in the heart of Gotham, along with a high-tech bat-themed suit. Ego much, Bruce? Too bad you couldn't include some actual training on the battle suit. Duke's two girl friends, Riko and Izzy, seem to be more familiar it with than he is.
Bruce's intent is for Duke to be the day-shift of the Bat-family, protecting the city during the day. And his liaison on the GCPD is a detective whom he tells, "My name is the Signal," an awkward statement by the writers that pretty much indicates the level of this story overall.
Batman puts the Signal on a case involving teenagers-turned-meta-villains (because the Signal's still young), and the source of this turns out to be a super-villain who claims to be Duke's true father, in a blatant rip-off of the Empire Strikes Back.
Cully Hamner is the artist on deck for this series, and is its saving grace. His illustrations are dynamic and fresh, making me wish he could be placed on an ongoing series.
If this character is to be Gotham City's new protector, I'm fine with it, but I think it would be far more effective to divorce himself from the Bat-family. Allies, sure, but to bat-theme this nobody so heavily only serves to dilute the overall-bat brand, and further weaken the legitimate characters such as Robin, Nightwing, and Batgirl. It just seems a cheap ploy to add "diversity" to the Bat-brand, without any genuine strategy.
Rating: 1 /10
Last Updated: January 24, 2022 - 11:00