Comics / Comic Reviews / DC Comics
Review: Batman Beyond #15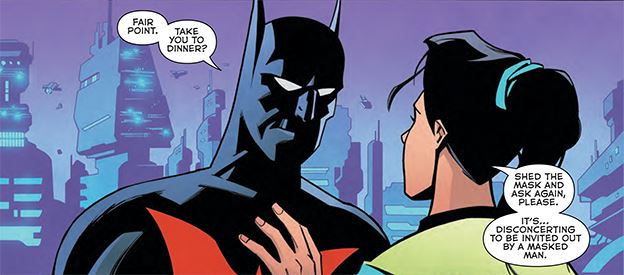 By Philip Schweier
December 27, 2017 - 04:05
In this issue promises the return of the Royal Flush Gang. That would have merit if they presented a genuine threat, but they really don't. They're just a ploy for a mysterious mastermind who has his eyes set on Terry McGinnis.
Meanwhile, someone breaks into stately Wayne Manor and steals a photo of Terry from his kid brother's bedroom. It's a moment straight out of Hanna-Barbera, as elderly Bruce Wayne cautions Matt against biting off more than he can chew. But Bruce is in a different league from Race Bannon, and Matt is a far cry from Jonny Quest.
Matt may be the perennial kid sidekick ever hero used to have. Times have changed, but trends are cyclical. Perhaps by the time Batman Beyond is no longer in the future, kid sidekicks will return to style. If so, Batman could do a lot better that taking on Matt as "Robin Beyond."
There's a fine line between catchy catch-phrase and an over-used affectation. "Whatchu talkin' 'bout, Willis?" (Diff'rent Strokes) and "Whoa!" (Blossom) are examples of the latter. This would include Batman Beyond's contribution to the would-be hipster's lexicon, "schway."
After seeing it three times in the most recent issue of Batman Beyond, I had to look it up, to see if my home in coastal Georgia is too far off the beaten path to hip to what goes on in New York or L.A. No, it's a Batman Beyond thing, that began in the original animated series. It's an adjective, to describe something as cool or awesome. But the phrase "It's schway time!" is lost on me.
It all boils down to writers trying to tap into – or in this case, anticipate – the trends of teens and young adults. It's a constantly moving target, and is doomed to failure 99 times out of 100. This means writers are left to the dismal task of creating their own future slang.
Good luck with that.
Rating: 6/10
Last Updated: February 5, 2023 - 09:06