Arrow The Huntress Returns Review
By Alexander Jones
March 25, 2013 - 15:20
Whenever the Huntress is in an episode of Arrow, the audience must brace themselves for a more average episode of the show. The character is essentially a female version of Oliver and his alter ego. She creates problems because Oliver has such an enormous problem with her killing others even though he is practically a serial killer.
This episode started off very entertaining with the Huntress undercover at a strip club hunting down her father's attorney. Once she finds her prey she kills him in cold blood. Right away, the odd ideology it is wrong for the Huntress to kill others but totally justifiable for Oliver to do the same, is put on display. At one point in this episode Diggle does point out that Ollie is a murderer, but Oliver dances around the subject. In another amusing scene, Diggle points out how Helena looks like the T-Mobile girl, and how it has given Ollie a soft spot towards her. There are more twists and turns regarding Helena throughout this episode, but the conflict is not quite resolved. Huntress is free to come back and wreck Ollie's life whenever she chooses.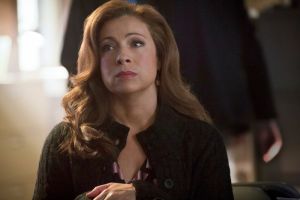 The subplots this week redeemed some of the episode. Roy Harper has been an excellent addition to the show so far. He is not a character that the audience immediately will like, but is more complicated and for good reason. Characters like this offer diversity for a show that desperately needs it. In the span of little screen time, Thea has developed a very charming romance with him as well; the actors have impressive chemistry. There is a huge Easter egg for comic book fans nestled in a small bit of dialogue from Harper.
Laurel's mother discovering her sister is not grounded is an element and story that has done nothing but detract from the show. Then there is the fact that it gives Laurel something to be self righteous and mad about. Tommy has been fascinating to watch lately after he discovered the secret of Ollie. When Laurel yelled at Tommy, it just made her even easier to hate than usual. Tommy has grown up fast from irresponsible to the one of the best characters on the show.
Arrow is currently balancing many subplots. Unfortunately, the ones that are the most entertaining are receiving the least screen time.
Rating: 6 /10
Last Updated: September 6, 2021 - 08:15