Ant-Man and the Wasp: Quantumania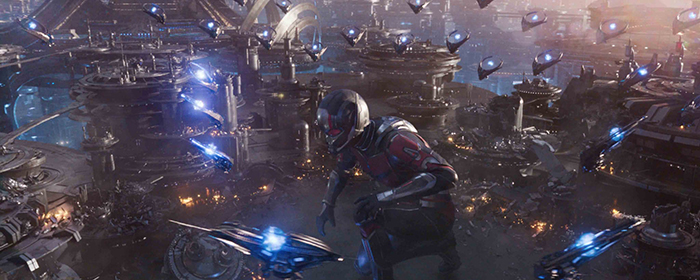 By Hervé St-Louis
June 23, 2023 - 08:10
Scott Lang, Hope van Dyne, Hank Pym, Janet van Dyne, and Cassie Lang become trapped in the Quantum Realm where the evil time-travelling villain Kang was trapped in years ago. Since he has conquered that realm and seeks to escape from there but first, he must locate his key outside the Quantum Realm that was hidden by Janet van Dyne, the woman who trapped him there, decades ago. Will he succeed in escaping the Quantum Realm?
If the Fantastic Four are supposed to be Marvel's first family, they need to appear quickly multi-generational superhero family of the Ant-Man and the Wasp has held the throne for years. That, however, might be a problem as there are so many characters with similar powers and abilities to keep track of, that it dilutes the uniqueness of each. Fortunately, this movie was a redemption movie for the original Wasp, Janet van Dyne who was the real hero of the film. I grow annoyed with Paul Rudd's Scott Lang. The funny antics worked in previous film but not this one. This movie is of course, another building block for the Kang storyline in the Marvel Cinematic Universe (MCU). It is forgettable though.
Parts of the set designs looked intricate, but whenever Cassie Lang grew to enormous size, the film lost all credibility as the effects were bad. The worse effects were of course those dedicated to Corey Stoll's M.O.D.O.K. who looked like a farce when compared to his original appearance in the first movie of the series. Perhaps Marvel should invest in more films filmed outside of a green screen studio as its movies feel plasticky and like cheap video games with a mess of colours. You know a movie franchise is bland when they replace a major actress (Emma Fuhrmann's Cassie Lang) with another (Kathryn Newton) and did not notice.
Rating: 7 /10
Last Updated: August 31, 2023 - 08:12