Marvel's Ant-Man Blu-ray review

By Leroy Douresseaux
December 7, 2015 - 19:24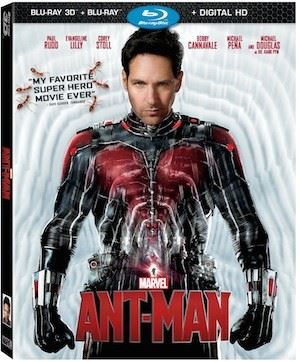 Ant-Man Blu-ray box art
Marvel Studios has given movie audiences two movies featuring
The Avengers
. Now, Marvel brings to life one of the original Avengers in the Summer 2015 international hit film,
Marvel's Ant-Man
. Now, audiences can bring home an epic heist tale as Ant-Man embraces his inner hero and harnesses the unique ability to shrink in scale to save not only the world, but also his daughter.
Just in time for holiday gift-giving,
Marvel's Ant-Man
is available on
Blu-ray and Digital HD
,
3D Blu-Ray™ Combo Pack
, Blu-Ray, DVD, Digital SD and On-Demand on
December 8, 2015
.
Marvel's Ant Man
has been available on Digital 3D, Digital HD, and "Disney Movies Anywhere" since Tuesday, November 17, 2015
Ant-Man
opens in the year 1989. Scientist
Hank Pym
(Michael Douglas) discovers that his colleagues at S.H.I.E.L.D. are attempting to duplicate his shrinking technology, which he calls the "
Pym particle
," so he quits. Pym once used that shrinking tech to power his "
Ant-Man
" suit. In the present day, the now-retired Pym discovers that his protégé at
Pym Technologies
,
Darren Cross
(Corey Stoll), is also trying to duplicate the "Pym particle." In fact, Cross is very close to doing so and has even built his own shrinking suit, which he calls "
Yellowjacket
."
Pym and his estranged daughter,
Hope van Dyne
(Evangeline Lilly), believe that the only way to stop Cross is to steal the "Yellowjacket" suit and all of Cross' data and research. To do that, they will have to break into the heavily-secured Pym Technologies building, and that means someone will have to wear the Ant-Man suit. Is down-on-his-luck ex-con and master thief,
Scott Lang
(Paul Rudd), the perfect person to be the new Ant-Man?
As Marvel's superheroes go,
Ant-Man
is D-list, as far as familiarity with the public is concerned. To bring him to the big screen, Marvel needed the right actor. Paul Rudd is the right actor; he is irresistibly likable. I have been a fan of his since I first saw him in
Clueless
about two decades ago. His affable charm sells the idea of Scott Lang as a well-meaning criminal with a just cause. If you find Ant-Man to be a silly concept, Rudd makes it all seem less so. Everything about him says just-right.
Meanwhile, the rest of the cast is pretty good. Corey Stall, who has been giving dramatic heft to FX's summer vampire television series, "The Strain," since 2014, is Marvel's best villain-of-the-first-movie since Jeff Bridges menaced the first
Iron Man
film. Michael Peña as
Luis
, Scott's friend, is good, although the character sometimes seems a bit like an out-of-place oddity. Evangeline Lilly is lost in make-up as Hope van Dyne, who is also an oddity in this film.
I guess "odd" is the theme for
Ant-Man
the movie. I can't believe how much I like this movie. I saw
Ant-Man
at an early matinee on a Friday afternoon. There were a few children in the audience, and they loved the movie, often squealing with delight. I was dignified enough to force my squeals into hearty laughs.
Of all the Marvel Studios films,
Ant-Man
is the one that most effectively uses the avalanche of CGI and special effects we have come to expect of modern summer blockbusters, fantasy films, and superhero movies. I would dare say that just about every use of computer-generated imagery and effects in
Ant-Man
is in context, serving the narrative.
Ant-Man
is like
The Matrix
(at least the first one) in that all of the movie and computer magic is justified. I want a sequel, so I'm asking the rest of the world to join me in loving ants and
Ant-Man
as you never thought you could or would.
-------
BONUS CLIPS from Marvel's Ant-Man:
Ant Man: Michael Douglas as Hank Pym
Youtube: https://youtu.be/xcROGSeoc0Q
Ant Man: Bloopers
Youtube: https://youtu.be/7m05juc9CYM
Ant Man: Macroverse
A behind the scenes look at the specialized filming and digital effects used to create the incredibly small world of Ant Man
Youtube: https://youtu.be/8PNUiv-JLTI
Ant Man: Looping in the Avengers
Ant Man's first encounter with one the Avengers.
Youtube: https://youtu.be/yVBK_i6LQZM
Rating: A /10
Last Updated: September 6, 2021 - 08:15