Comics / Comic Reviews / Marvel Comics
Amazing Spider-Man: Extra! #2
By Hervé St-Louis
February 3, 2009 - 23:19
Spider-man Extra is an irregular series published by Marvel Comics containing stories about Spider-man and that set up future plot elements in the regular series or feature single stories. In this issue, Eddie Brock, the man formerly known as Venom who has now become the benevolent Anti-Venom is looking for the villain responsible for a new type of drug in the streets of New York. However, what he finds may make him renounce his vows to be a force of good. In the second time, Spider-man enjoys a bromance with Wolverine.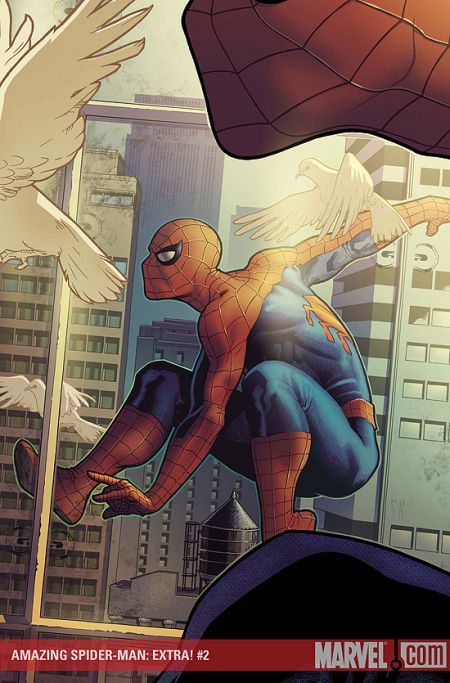 The story of Eddie Brock, I hope will see the return of the original Venom as Venom. I'm not thrilled about his replacement in the Dark Avengers. It's a good story that introduces several plot point that will surely be interesting to follow up on when they appear in the regular Spider-man series. I didn't read half of the captions, as they were useless, and that tells a lot about a writer. It's not that he fills his pages with nonsense. It's just that sometimes, writers need to zip it and let the artist tell the story.
The bromance story with Spider-man and Wolverine feels like something I have read several times before. Just like an old Gotham Knight issue featuring Batman and Aquaman on the former's birthday, the jerk in the story, Wolverine acts like jerk, never telling why he asked Spider-man to keep him company. It's a feelgood formula that seems to work, as it's been used so many times. We learn a few tidbits about Wolverine and his relationship with his family but nothing else. Still, it's a fun story.
I don't like Chris Bachalo's work. If an artist ever needed to take storytelling lessons, it's him. With him everything becomes complex and as a reader, I spend more time trying to decipher what he drew than enjoying myself.
Rivera is not a master storyteller himself – the scene where Wolverine is shot in the head is unclear. However, his work is more kinetic and his panels less filled with useless visual information, the way Bachalo fills his. I do like his interpretation of Wolverine. He looks more human than super heroic.
Rating: 7 /10
Last Updated: September 6, 2021 - 08:15