Toys / Comics to Toys / Marvel Legends
Alex Ross Captain America
By Hervé St-Louis
February 23, 2009 - 07:53
In Captain America #34, James Buchanan Barnes, the assassin known as the Winter Soldier and the former sidekick of the original Captain America, accepts to continue the legacy of his friend when asked by Tony Stark. As the new Captain America, Barnes, is a well trained martial artist and black op fighter with a cybernetic left arm and the experience of Bucky, Captain America's sidekick.

Alex Ross was asked to redesign the new costume of Captain America that Barnes would sport. This action figure is based on that design. It's more streamlined and shows the black op inspiration of the Winter Soldier, while keeping the bright colours of Captain America. I'm not a real fan of this design because the lack of a belt and defining features in the characters' legs make him seem like just another character.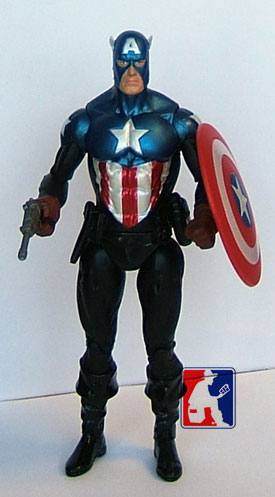 Although well articulated, this action figure is not fun to play with. The hip articulations don't allow the thighs to move forward and backward easily. In fact, they also interfere with the pockets, holster and other paraphernalia that the character wears on his waist. The metallic paint used on the action figure is dirty. The white paint which should be bright seems dirty. There's also quite a lot of bleeding from the red stripes over the white ones. There is bleeding in several other places, such as the character's mask. It really makes this supposedly deluxe action figure seem quite cheap. Previous Marvel Select toys had more care taken into their constructions, which was the initial argument for the premium price they commanded.
Twisting the character's waist is problematic as some of the glued in pockets will fall. The Captain America shield is also cheap looking and fits loosely on the character's left wrists. The grip on the shield that attaches itself to the character's wrist loosens quite fast and thus falls off. The ankle articulations are quite loose too and barely support the character's weight.
I'm not satisfied at all with this action figure. Too much corners were cut while the price was increased. Marvel Select used to stand for quality. This Captain America action figure was so poorly designed that it could be a Hasbro Marvel Legends action figure and no one would notice the difference, safe for the seven-inch scale. Skip this toy, if you're not really a fan. The real Captain America is bound to return one sooner or later.
Rating: 6 /10
Last Updated: January 24, 2022 - 11:00