Toys / Comics to Toys / G.I. Joe
Akiko Action Figure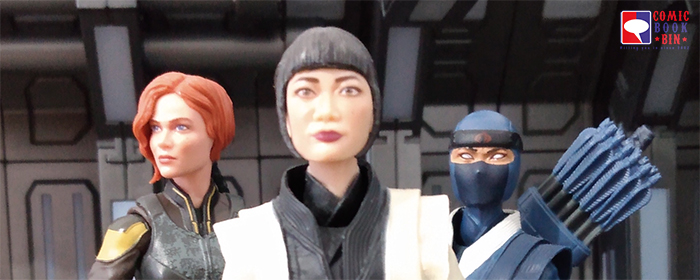 By Hervé St-Louis
March 25, 2023 - 07:08
Akiko is a new character from the 2021
G.I. Joe Snake Eyes
movie played by actress Haruka Abe. In the movie, she was the security officer of the Arashikage ninja clan and a possible love interest of Snake Eyes, for future sequels. For many Akiko should have been called Jinx, the female G.I. Joe martial artist that has a lot of history with the team, the Arashikage clan, and Snake Eyes. Akiko was not a popular action figure, as much of the Snake Eyes movie series. However, her body was reused for the female Blue Ninja set released by Hasbro in the fall 2022.
Akiko's face looks like actress Haruka Abe in most angles, but sometimes, she does not look like her. The suit is the same one she used towards the end of the movie, but with high heels. High heels never look good on female action figures that need to fight.
Surprisingly, collectors did not warm up to the sculpt when it was used for Alkiko but it was popular for the Blue Ninja character. There are many overlays on her chest and the pants are baggy. I dislike the baggy pants and the high heels, but the rest of the figure is well sculpted. It's interesting that even with a great sculpt, if a character or a version of it is unpopular, collectors will not bother with the figure. The face is interesting but Akiko's hair look the best here.
White (or cream) paint on top of black plastic never looks good. It's worse when the paint application is poor as it is on Akiko. Although there appears to be smudges of paint, in some areas, it does not cover the base black plastic properly. The face paint scan is excellent though. There are a few silver touches throughout the costume for buckles and zippers that look good. Otherwise, the figure is just black with a different head colour.
Akiko is one of the shortest Classified figures around. Only the female Blue Ninja who comes without high heels is shorter. But that's okay, as she looks great next to the other Joes regardless. She should also mix well with the Shang Chi movie action figures. Any contemporary martial arts display will be enriched with her.
Stability is a problem with Akiko. Her high heels lead her to fall constantly. I'm going to upgrade her with a retro G.I. Joe Classified action figure stand. Her ankle articulations are also weak. You can improve them by adding a bit of Edge floor polish.
Akiko's articulations are not great for a ninja. She only has single elbow joints like those found on Star Wars Black Series action figures. They can rotate at the socket of the elbow. That means that she does not have bicep curls either. Akiko does have up and down articulations at the wrists, which improves posing with weapons. Her head sits high on a double neck articulation, giving her a lot of range and mobility. The neck is stiffer but will also rotate and rock. While there is a separate waist articulation, it is not easy to use because of the tunic. It can, however rotate on its ball joint. She does have butterfly joints at the shoulders, but they are hindered by her tunic.
Her diaphragm articulation is not good, and she barely can bend her torso. She has drop down hips like most G.I. Joe Classified figures but again, the tunic gets in the way. Without her tunic, she could probably raise her leg to 90 degrees and do the split. Akiko has thigh cuts and double knees articulations. The knee articulations do have a great range but the knees' sculpts looks odd when bent. He ankles are a problem although they rock on a rocker and can bend up or down. They are unstable because of her high heels and cannot support her weight well. It will be difficult to pose Akiko. She has upper ankle curls that can be used to stabilize the figure a bit.
Akiko is all PVC, most of which is black.
Akiko came with nothing but a staff with blades at both ends. Then two more staff are included as if the longer one had been split in two. She cannot store both sets of weapons her body.
Akiko came with the same G.I. Joe Classified package that highlighted the Snake Eyes movie. While there is a nice painting of Akiko on the front of the box, there is a Snake Eyes movie logo on the back with Snake Eyes.
When released, this figure retailed for about $19.99 USD. This figure can be found for significantly less at many retailers in store and online. While a few places will sell it for the full retail price or more, skip that. This figure is a peg warmer.
Hasbro produced too many Snake Eyes movie action figures. They were also sitting in a warehouse for a long time as the movie had been pushed back for a year because of the pandemic. Circumstances and a bad movie hurt the success of this action figure. Over a year after the movie's release, Akiko can be found in many places peg warming and being tough to discard by retailers. All the Snake Eyes movie figures suffer from this unpopularity even though they are good action figures. The success of the female Blue Ninja is proof enough that the build is not the problem. The character is.
Last Updated: August 31, 2023 - 08:12