Comics / Comic Reviews / DC Comics
Actions Comics #882
By Andy Frisk
October 18, 2009 - 19:25
"Major Krull—Reactron—is a loose canon. I don't trust him, and I don't want him in my squad."
"That's not your decision."
"General Lane, Squad K was created to neutralize and disarm specific Kryptonian threats, not to serve as some anti-Kryptonian Death Squad."
This exchange between Colonel Hazard, leader of Squad K, and General Lane, supreme commander of The Human Defense Corps, at the beginning of Action Comics #882, Part 3 of "The Hunt for Reactron," just about sums up the difference between the "protect and serve" attitude of Hazard and the "divide and conquer" attitude of Lane. General Lane will stop at nothing to destroy any and all Kryptonians, even if it means planting one of his agents on Hazard's team as an assassin primed to eliminate any threat to himself, including level headed men like Hazard. When Squad K, with Reactron as part of the team as ordered by Lane, catch up to "The Metropolis 3" they don't quite get the battle they were expecting as Chris, Thara, and Kara all surrender in an effort to clear their names. When Hazard begins to see the point of their explanation of the events surrounding Mon-El's "murder" though, Reactron follows through on Lane's orders…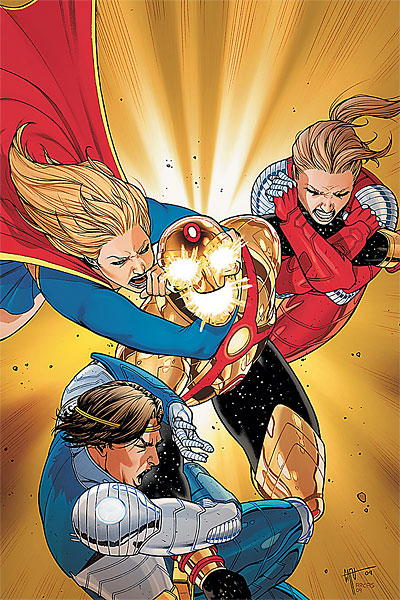 Lane's diabolical machinations continue to charge full speed ahead, and he is appearing more and more unstoppable. Now, by eliminating one of the few voices of reason that he could have had under his command, and with Nightwing, Flamebird, and Supergirl seemingly helpless at the hands of Reactron, things haven't seemed darker for our heroes. On one bright note, just before the final face off between Squad K and The Metropolis 3, Kara and Thara seemed on the verge of reconciling and ending their feud with each other, and Lois and Chris reunited for a brief moment after which Lois promised to write the story that will clear their names. They have to come up with the evidence though, not to convince Lois, but to convince the public.
Perez delivers more of the same art wise this issue and that's a good thing. He creates some great in-flight shots of The Metropolis 3 and some intense up close hand to hand battles. His ending shots of Hazard's fate and Supergirl in the clutches of Reactron are quite powerful and chilling. They leave the reader gasping for more. Mena's colors bring Reactron's golden Kryptonite blasts to life and are perfectly shaded, almost making the reader blink as if Reactron's bursts of light are dazzling your very eyes.
As the greatest story ever told in Superman's history rolls along, it continues to keep its readers on the edge of their seats. Rucka and Gates' part of the tale, chronicled monthly in Action Comics is simply a must read part of a must read saga. So read it.
Rating: 10 /10
Last Updated: July 2, 2020 - 16:53