Comics / Comic Reviews / DC Comics
Action Comics #883
By Andy Frisk
November 20, 2009 - 23:55
Action Comics #883 marks the launch of "Divine Spark," a new sub-chapter of the current World Against Superman chapter of the overall World of New Krypton story arc. This sub-chapter opens with Nightwing and Flamebird, in their new duds, saving Toronto from an onslaught of mini-Brimstones which have erupted from a seedpod. Brimstone was a fire-breathing, hulking alien entity that Superman faced down years ago. Even though Chris and Thara "do the whole superhero thing" they are attacked by fighter planes and reported on world wide news to be the actual attackers of Toronto. Meanwhile, Jax-Ur, one of Zod's sleeper agents on Earth, and the target of Nightwing and Flamebird's next sleeper hunt, continues his mad-scientist experiments on lobotomized humans. It seems his overall and specific goal might just be to neutralize Chris and Thara, and when circumstances bring Chris and Thara face to face with Jax-Ur, the hunters become the hunted…Also meanwhile, back in Metropolis, Perry White begins the search for the missing Jimmy Olsen who may or may not be dead.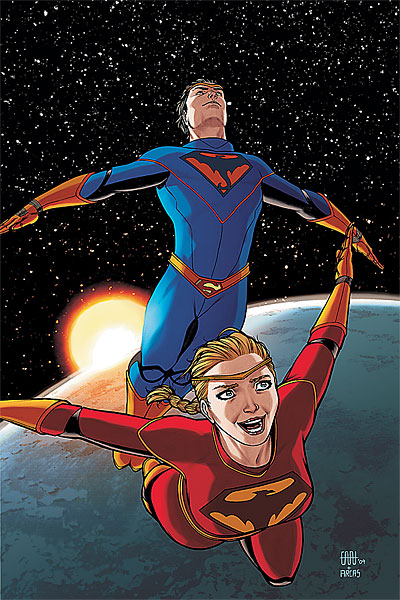 New series co-writer Eric Trautmann joins Greg Rucka as Nightwing and Flamebird get back to their original mission: routing out Zod's sleeper agents on Earth. While they logically decide to pursue Jax-Ur next, as he's potentially the most dangerous of the remaining sleepers, Thara pretty nonchalantly dismisses their previous targets, Az-Rel and Nadira. It just seems like they should follow thru on them and be sure they're out of the picture. Jax-Ur does appear to be a major threat though and warrants their attention. He's the classic mad-scientist super villain, albeit with a twist. He believes in God. If he truly has the power of a fanatical religious conviction behind his arrogant and elitist intellectualism, then he definitely just might be Nightwing and Flamebird's most deadly opponent yet, since he might take a special interest in the pair's Kryptonian-God augmented powers.
Series artist Pere Perez continues to keep up the great work. His actualization of Nightwing and Flamebird's new costumes is great. The pair have shed the power-suit disguise and are "out" as Kryptonians. Their chest-plate shields are shaped in the style of Superman's with the Nightwing and Flamebird symbols taking the place of the House of El symbol respectively. They do wear small Superman symbols as belt buckles, which are a nice touch and ties them into the Superman "Family" of heroes, while sets them apart with their own identities. Perez's anatomy, action sequences, and grasp on architecture and background are still strong, as expected, and his style continues to fit Nightwing and Flamebird's adventures.
World of New Krypton continues to roll along, and Action Comics continues to showcase the newest of New Krypton's teenaged superheroes. It will be interesting to see how the whole religious aspect of the two's chosen monikers play out and what role it will have in their lives, especially as the overarching storyline nears its climax next year.

Rating: 9 /10
Last Updated: January 24, 2022 - 11:00