A Word With "G-SpOt"
By Eli Green
October 1, 2007 - 16:30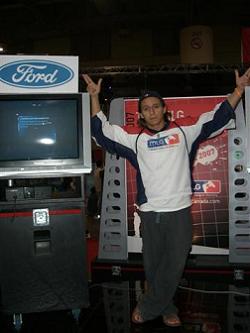 Nelson "GSpot" Triana

As I mentioned in the Halo 3 Midnight Launch Event article, Major League Gaming Canada was at the event promoting the upcoming MLG Canadian Open. Their crew handed out prize money flyers to passers by and talked with people about the open. I also got the chance to speak with Nelson "G-SpOt" Triana, Canada's top rated gamer (number two in the world) and MLG Canada's spokesperson, about the Open and tournament gaming in Canada. Here's what he had to say.

Comic Book Bin : So Nelson, first of all, what's it like to be Canada's top gamer?

Nelson "G-SpOt" Triana : It's stressful, to be honest. Everyone's always trying to gun for you, right? When you're at the top everyone wants to bring you down. For the past year, there are a lot of Canadian gamers that have stepped up, and there's a lot of good Canadian gamers out there now. So I have to keep up with my game, which means a lot of practice, and it's getting pretty stressful, I'm not going to lie.

CBB : Over the past few years, how have you seen gaming grow in Canada compared to what it's been?

G-SpOt : Well, the past few years I haven't seen it growing at all. That's why I always have to go to the States to compete. I mean, there's a tournament in Toronto that they have every so often, but it doesn't bring out the members. They'll bring maybe like, five people. There's just not enough. In the States they're bringing over a thousand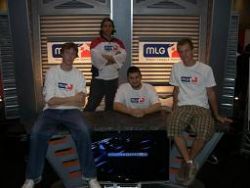 GSpot with other MLG Canada members
something every tournament that they have. That's the numbers that we need here. So with the announcement of MLG Canada coming to Toronto, November 2
nd
, that's a huge leap for Major League Gaming in general, and hopefully that will just boost up Canadian gaming for everyone across Canada.
CBB : With the MLG Canadian Open coming to the Direct Energy Centre in November, what do you expect to see as far as Canadian gamers coming and stepping up?
G-SpOt : What I'm hoping to see is as many Canadian gamers, across Canada, attending this event, because they've been asking for an MLG event in Canada for the past four years, since MLG started. You know, now it's here, and I expect all those guys that wanted it, to be there. You know, that's my number one expectation. Number two is, a lot of people can't go to the States for numerous reasons. It's too expensive. Flights are always $500 plus anywhere in the States. The currency exchange used to be terrible, now it's good, but before that it used to be a problem.
Getting a passport can also cause problems because you have to have one now to travel. I mean, if you're going to fly anywhere. And then hotel, that's another big deal. We were in Orlando, it was like $800 for four nights. A lot of that stuff adds up, and a lot of the gamers are teenagers so they don't really have that kind of money, and sponsorship in Canada is not as big, just because they're not familiar with it just yet.
Now, with MLG coming to Canada, there's no excuses for them not to go to events now, you know? Toronto's so easy to get to. You could fly there, direct flight pretty much from anywhere. You can access it by train, bus. It's just, it's Toronto. It's the central city of Canada. And the currency's Canadian Dollars, there's no problems there. I'm pretty sure hotel rates are just as good. So now all the excuses anyone had before, they're not there anymore. Everyone has to come to MLG Canada.
CBB : And as far as tonight goes, are you having fun? What are you doing here tonight?
G-SpOt : Well, just like everybody else, I'm playing Halo 3 for the first time, but because I'm Canada's top gamer, I have to play against the challengers. So they have my section and a different section. Whoever wins in the different section comes to me and I play against them one-on-one. And so far I haven't lost. The only person that I've actually lost to is, actually, my teammates, TheBo. He's pretty nasty at Halo 3 .
CBB : He's from N49?
G-SpOt : That's correct. He's also on North of 49. Yeah, I mean, he's definitely a good player, but I'll get to him. I'm very smart, so I'm pretty sure I'll be able to outsmart him sooner or later.
CBB : And you're excited for the Halo 3 launch?
G-SpOt : I'm very excited. As soon as I get the game, I'm not even going to go on Xbox Live to play the multiplayer. I'm going to play the campaign story first, until I finish it, just because I'm curious to see what happens. From then I'm probably end up playing on Xbox Live to play against the rest of the world.
CBB : Thank you.
Last Updated: August 31, 2023 - 08:12