Halo 3 Discs Scratched
By Eli Green
September 26, 2007 - 02:00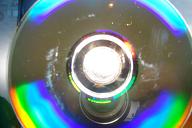 Photo courtesy of Kotaku.com
It seems that not all went well with the
Halo 3
launch last night. A large number of buyers of the Limited Collector's Edition have been opening their copies of the game, only to find them horribly scratched. The cause? From the look of things, it appears to be poor case design for the tins. The discs are placed onto a nub which is directly connected to the case. Surrounding the nubs are two pads which are supposed to be protect the bottom of the disc from scratches.
Unfortunately, since these steel tin cases are flexible, the disc may pop off the nub and get knocked around while the game is in transit. Hearing this news, I opened my copy to take a look at my discs (even though I don't own my own Xbox 360 yet). I could hear both discs rattling around the case before I even removed the packaging. Opening the case revealed both discs were loose and had pooped off the nubs, however only the Essentials disc was scratched (not too badly either), while the game disc was in pristine condition.
This problem does not seem to be an issue in Australia however, as Kotaku reports. Their article features a YouTube video of an Australian opening his Limited Collector's Edition copy, in which it can be seen that the Australian version comes with foam padding, which protects both discs from becoming dislodged and getting scratched. In response, Microsoft has begun a disc replacement program, which allows buyers of the Halo 3 Limited Collector's Edition to get a replacement copy of the game and the Essentials disc at no charge until December 31 st . If you purchased a Limited Collector's Edition and need a replacement click here.
Last Updated: August 31, 2023 - 08:12