Team Str8 Rippin Crowned Halo 3 Champs At MLG Pro Circuit Toronto
By Eli Green
August 28, 2008 - 12:00
This past weekend at the Metro Toronto Convention Centre, over 900 professional and amateur gamers battled for the top spot in three different tournaments. A featured event of Fan Expo 2008, the MLG Pro Circuit Toronto, Presented by Ford hosted competitors in four-on-four tournaments of Halo 3 , Gears of War and Tom Clancy's Rainbow Six Vegas 2 . Up for grabs was prize money from a purse of over $70,000 U.S.
A huge crowd forms behind the main stage.
The Rainbow Six Vegas 2 four-on-four tournament saw team vVv ReWriTTeN capture their second consecutive MLG Pro Circuit title, snagging them the $4,000 U.S. championship cheque in the 26-team competition. This was the first time the team has won multiple Rainbow Six Vegas 2 titles on the MLG Pro Circuit. Saturday was fourth-ranked team TH3 NSAN3Z day to shine, as they came out on top of a field of 67 teams, claiming their first MLG Pro Circuit title, in the Gears of War four-on-four tournament. They also took home $4,000 U.S.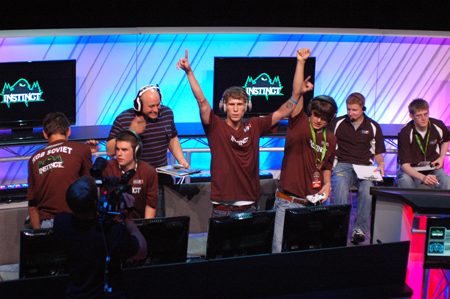 Instinct took two rounds in the final.
Sunday was the big day for competition though, as the finals in the Halo 3 tournament were held. During this last day of competition, and Fan Expo, the crowd's cheers could be heard across the massive hall, and the event went well past the close of Fan Expo itself. From the field of 138 teams, team Str8 Rippin emerged as Halo 3 four-on-four champions, defeating third-ranked team Instinct 6-2 in the final, and earning them the $20,000 top prize.
The next stop on the 2008 MLG Pro Circuit is Dallas, Texas from October 3 rd to 5 th .
Str8 Rippin vs. Instinct
Images courtesy of Major League Gaming
Last Updated: August 31, 2023 - 08:12