Comics / Manga / Yaoi Manga
Yuki Shimizu's ZE: Volume 1 (Yaoi)
By Leroy Douresseaux
March 20, 2009 - 15:23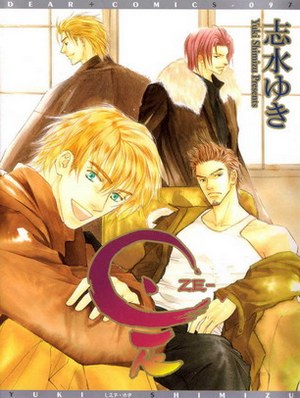 The cover art from the Japanese edition (above image) appears on the cover of 801 Media's edition with new cover copy.
Rating: "18+ Mature Content"
In ZE, Vol. 1, a yaoi manga from Yuki Shimizu, a destitute young man finds himself in the world of odd people with supernatural ways.
Left alone and homeless after the death of his grandmother, culinary student Raizou Shichikawa accepts an offer to live in the palatial estate of the Mitou family. Raizou earns his room and board by working as a cook and housekeeper, but while the Mitou family likes his diligence, Raizou can't help but notice the family's odd behavior.
Raizou is drawn to a Kon, a dark-haired young man who is prone to pout. Raizou learns that Kon is a "kami," a kind of healer that is bound to a "kotodama," a master whom he heals of injuries and illnesses. Kon, however, does not have a master, so he allows different people to exploit his body, but Raizou hopes to help this sad young man lead a more fulfilling life.
THE LOWDOWN: One would think that creator Yuki Shimizu would play up the kinky aspects of the master/slave relationship at the heart of ZE, but she paints a troubling portrait of people who allow their bodies to be used for others' benefit. ZE is not without both erotic subtext and overt sexuality, but this series (or at least the stories that make up the first volume) is a relationship drama more than a story of couplings. On the surface, the art is pretty, the graphic design and the drawing style is meant to be emotionally evocative. The art conveys that ZE is tense and dramatic without being overly melodramatic, and the story emphasizes character over sex as much as any other yaoi I've ever read.
POSSIBLE AUDIENCE: Fans will be drawn to the lovely art, but how much they like ZE will depend upon whether their preference is for character drama or for a sexy, sex-filled drama.
B+
www.digitalmanga.com
www.akadot.com
Shop for Yaoi Delights.
Last Updated: June 23, 2021 - 00:45