Yonen Buzz: Plastic Chew
By Leroy Douresseaux
March 19, 2009 - 19:56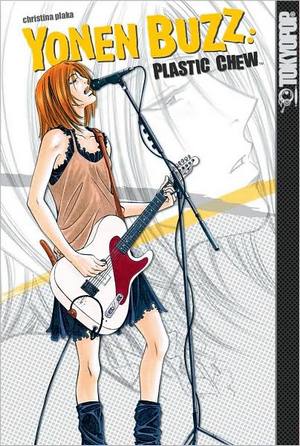 Yonen Buzz Plastic Chew cover image is courtesy of barnesandnoble.com.
Drama; Rated "T" for "Teen-Age 13+"
Yonen Buzz: Plastic Chew is a one-shot prequel to the mid-decade, three-volume series, Yonen Buzz. Both the prequel and the original series are the work of German cartoonist, Christina Plaka.
Playing grunge, punk, and noise rock, Plastic Chew is an up-and-coming band. Jun Imai, the band's songwriter, plays guitar. Atsushi Kato, the quiet type, plays bass. The manic Keigo Miyake is the drummer. But the center of the band is Masanori Chino – lead singer, but Masanori has recently quit.
Yonen Buzz: Plastic Chew takes us through the trials and tribulations of a band trying to adjust to a new member, and this adjustment is made all the more difficult because the new member, a vocalist and guitarist named Sayuri Tsushima, is just as stubborn as Jun is. The group's credo demands that the members of the band play together and live together, but Sayuri is a girl. If living together wasn't dodgy enough, Sayuri sleeps in the same room as the introverted Jun. Jun, Atsushi, and Keigo have three months to adjust to their new lead singer, so that Plastic Chew will be ready to compete at the Battle of the Bands for the event's top prize, a recording contract. Personal issues, however, may turn a chance at a big break into a sorry break-up.
THE LOWDOWN: There's a sequence late in Yonen Buzz: Plastic Chew, in which Jun talks to Sayuri's parents about her running away from home. The four-panel grid at the top of page 157 comes in the middle of sequence heavy with family melodrama. In the last panel, however, creator Christina Plaka chooses a bit of levity, using a little chibi to depict Sayuri sneaking away from home in the middle of the night. This is indicative of the playfulness of this youth drama. Plaka takes her characters, their motivations, and their ultimate goal seriously, but like the inspiration these characters display as they create music, Plaka is spontaneous in her depiction of their quest to get that big break in music. Her characters are young and like to have fun, although they are earnest about their career path and the obstacles before them.
Plaka's drawing style, which seems to borrow from Adam Warren, is raw and untamed – like youthful exuberance. Her composition and graphic design are steeped in the visual language of shojo manga (comics for teen girls), but like hot sauce on a favorite dish, the flavorings of shonen manga (comics for boys) adds an essence to Yonen Buzz: Plastic Chew that makes for a fun read.
POSSIBLE AUDIENCE: Fans of non-Japanese comics influenced by manga will want to try Yonen Buzz: Plastic Chew.
B+
Last Updated: June 23, 2021 - 00:45