Warcraft: Legends: Volume 1
By Leroy Douresseaux
August 18, 2008 - 15:36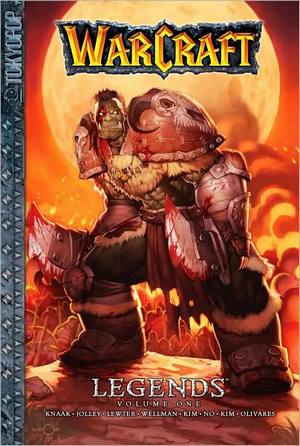 Thanks to barnesandnoble.com for the cover image.
Warcraft: Legends, Vol. 1 is the first of 14 volumes of Warcraft manga that TOKYOPOP plans to publish over a three-year period with Warcraft's owner, Blizzard Entertainment. TOKYOPOP has already published the well-received, three-volume, Warcraft: The Sunwell Trilogy. The Warcraft manga are based on Blizzard Entertainment's series of real-time strategy games which began with Warcraft: Orcs & Humans 1994.
Warcraft: Legends is an anthology book, and this first volume contains four stories that center on some combination of regret, revenge, and redemption. The opening story, "Fallen," is from Richard A. Knaack and Jae-Hwan Kim, the creative force behind The Sunwell Trilogy. This tale is a follow up on the character Trag Highmountain, who finds that his rebirth has left him cursed to live the life of the undead. It's a poignant, engrossing story that highlights why Knaack and Kim did so well on The Sunwell Trilogy.
"The Journey" focuses on a young farmer and father who joins a band of warriors in hopes that he will earn money to move up from being a dirt poor farmer (sort of a riff on the film, 3:10 to Yuma). "How to Win Friends" is a comic fantasy about a gnome trying to fit in with a community of dwarves who are suspicious of him. "An Honest Trade" follows a vengeful weaponsmith who finally realizes the error of providing his powerful bladed weapons to just anyone.
These stories work because the creators are able to make the reader feel whatever they're trying to convey. Whether it is the instant chaos of battle engaged, the blood-freezing surprise of an ambush, the loneliness of an outcast, or the desperate need to be accepted, the writers and artists of Warcraft sell everything from drama and comedy to defeat and ultimate victory.
B+
Last Updated: June 23, 2021 - 00:45