NOOK Color
By Leroy Douresseaux
February 6, 2012 - 13:13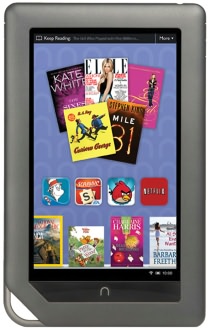 From and barnesandnoble.com, an image of the NOOK color
VIZ Media recently sent me a NOOK Color, which is (as of this writing) Barnes and Noble's spiffiest e-reader device. It was sent to me so that I could examine it and also take a look at the usability of the VIZ Manga app on the NOOK color. This app allows readers to read digital versions of VIZ Media graphic novels on various hand-held devices. No, VIZ did not give me the NOOK Color, but I'm ho-like and therefore, not above taking bribes and gifts (Call me, player!).
This is the first time I have ever used an e-reader tablet. I have thought about getting one, but I'm not really in a rush to do so. I still like reading books that I'm holding in my hands, and I don't particular care for most handheld devices, including cell phones.
When I first got the NOOK in my hand, I was all over it like a monkey (or small child) trying to find a way to get at the treat inside a box. After powering the device, I discovered that the NOOK comes with two versions of a user's guide. However, if your fingers can tap the screen or swipe across it, you can figure out how to navigate this baby in several minutes (or less if you are "tech savvy"). In less than an hour, you'll pretty much know what you need to do in order to read some digital reading stuff. One thing that really excited me about the NOOK Color (I'm embarrassed to say) was the resolution of the screen. I was like a cave man ("Look, the light, the light!) when I saw how bright the screen could be.
As for the VIZ Manga app, I obviously didn't expect VIZ to put out crap, but I was surprised by how nice each manga title seen through the app looks. With the NOOK's sharp resolution and the ability to control brightness, this app does justice to the manga's art and graphics. This NOOK came loaded with 13 volume of manga, including one volume each of Naruto and Bleach and multiple volumes of Absolute Boyfriend and Death Note. Simply tap on the image of the cover on the screen to choose your volume.
There are a few ways to navigate through the volumes. Slide your finger, right to left to "turn" the page. However, digital manga is formatted like Western books, so you don't start reading at the back of the book. While reading a particular manga, you can tap the bottom of the screen and get a "Contents" option that allows the reader to choose and/or bookmark a page. There is another option that allows the reader to do some finger sliding across sets of thumbnails of pages from a volume. If you have to quit in the middle of reading, the next time you power up, the NOOK remembers the last volume you were reading and the last paged you viewed.
When you move the NOOK, you can read vertically or horizontally (an option which shows two pages at time). Vertically, the page is about 3.6" x 5.5," which is less than the page size of a typical VIZ Media title (about 4.75" x 7.5"). However, the resolution on the NOOK is so good that the digital manga is as readable as a paperback manga volume.
I honestly had fun with both the NOOK and the VIZ Manga app. Are they for me? Not yet, I guess, but the app via the NOOK Color is a cool way to read comics. If you don't have to have the tactile experience of holding a comic book, you couldn't go wrong with digital comics or at least with VIZ Media's version of it.
Last Updated: June 23, 2021 - 00:45