Is Your Web Comic Book Enabled For Internet Tablets?
By Hervé St-Louis
May 31, 2008 - 00:44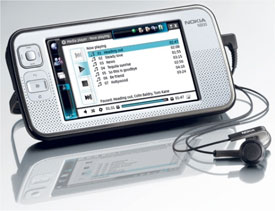 Nokia N800
I received this new Internet tablet last Monday called the Nokia N800. This is a new type of device that is almost like an iPhone, but without the phone. It's cooler than both an iPhone and an iPod Touch, and really built to be a Web surfing device with all the juice one can expect from a small 400 megahertz computer. All week, I've been raving, dreaming, playing with this new toy of mine and of course, I've tried to read a few Web comics with it.
Whether one uses Apple's iPhone, Nokia's N800, N810 or N770, a BlackBerry, a Palm Pilot or any phone or small device that's enabled to surf on the Internet, viewing quality is one of the major concerns. Now, a developer has already created a program called
Comix
that help read online comic books. This program was designed specifically for Nokia's N800 and N810 OS2008 operating system. But what if you don't have a Nokia Internet tablet? How can you view you favourite comic books online on the go?
Well, at this point, I have to plead with online comic book creators to make their Web comics suitable for small screen viewing. For example turning or switching pages should be a breeze. Fonts and captions should be large enough for those of us who read on a small screen. Also, the layout of a panel and a page should be designed so that viewers don't get only part of an image or a caption. At best they should be designed so that both appear at once.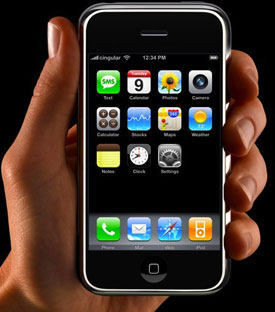 iPhone
Most Web comic book creators probably don't care yet about this, and that's why I'm appealing to them. If you're going to make a Web comic book, make sure all Web-enabled devices can have access to it.
Just remember these points
1-Make sure it's easy to scroll through a page.
2-Make the text easy to read with enough contrasts.
3-Think of the layout of various elements like the captions and the images within a panel.
4-Make sure the plug in you use is available on all platform. As much as I love Flash (I'm a Flash animator), iPhones, unlike Nokia's tablets still cannot see Flash movies, as of today.
5-Make sure the download is fast enough. Wi-Fi connections are not always great.
6-Organize your site so it's easy to change page.
If you're serious about your Web comic book, you'll think about some of the newer audience who may be surfing with something else than a traditional computer and you'll make your Web comic book easily accessible to us!
Last Updated: August 31, 2023 - 08:12