Jeffrey Brown's Undeleted Scenes
By Leroy Douresseaux
May 6, 2010 - 10:56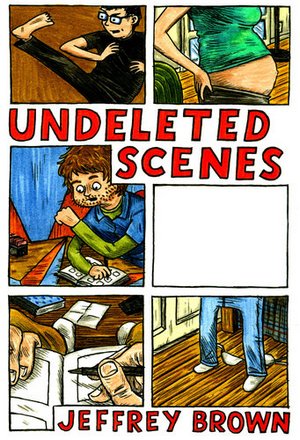 Undeleted Scenes cover image
Top Shelf Productions latest Jeffrey Brown publication is Undeleted Scenes. This 350+ page, 5" x 7" compendium collects a decade's worth of short works from Brown, an acclaimed minicomics self-publisher and indie creator of autobiographical comics.
Some of the material in Undeleted Scenes has appeared in other collections of Brown's work including Every Girl is the End of the World for Me and his delightful ersatz superhero comix, Minisulk. Some of the comics included here, Brown contributed to anthologies such as Blood Orange (Fantagraphics Books), Kramers Ergot, and McSweeney's. In addition to some pieces from Brown's minicomics, Undeleted Scenes has a little over 10 stories that were previously unpublished.
Much of Brown's work is autobiographical, although there is occasionally something that can be classified as a memoir. In a way, Brown reminds me of Woody Allen, in that Brown can make observations about his own life with dry wit and sarcasm. He often seems like a hapless actor in his own life. It's as if Brown's life is indeed a big deal; it's just that he's a bit player in it. His low-key approach makes even the heavily dramatic moments charming, or perhaps, Brown merely disarms us with the way he doesn't take the highs or lows too seriously.
Although I enjoyed most of this book, my favorites, by far, were "Pregnant Pause," the recollection of his girlfriend's pregnancy and eventual birth of his son, and the comics from "Be a Man." For me they're the best of a good lot, and Undeleted Scenes should be on the serious comic book reader's must-buy list.
A-
Last Updated: June 23, 2021 - 00:45