TOKYOPOP Fiction: Trinity Blood Rage Against the Moons: Volume 1
By Leroy Douresseaux
June 17, 2007 - 11:30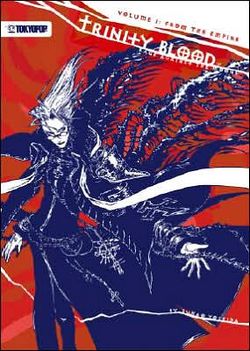 Thanks to barnesandnoble.com for the image.
TRINITY BLOOD: RAGE AGAINST THE MOONS, VOL. 1 – FROM THE EMPIRE
Trinity Blood is a series of novels penned by the late Japanese author, Sunao Yoshida, and Yoshida's friend Kentaro Yasui, who continued writing the series after Yoshida died in 2004. TOKYOPOP, as part of their "Pop Fiction" line, is publishing the Trinity Blood novels in English. Some fans of Japanese entertainment know Trinity Blood as the 24-episode anime series or the seven-volume manga series, which were both adapted from Yoshida's original prose fiction.
Trinity Blood takes place 500 years in the future after an apocalyptic war between the nations of Earth destroyed civilization. The two dominant powers are the Roman Catholic Church with the Vatican as its seat of power and the Vatican's rival, the New Human Empire, which is a vampire kingdom. Vampires call themselves "Methuselah," and their human enemies, "Terrans." The Vatican and the Methuselah are fighting a war to the death, with a tiny minority on either side trying to create a peace.
Trinity Blood: Rage Against the Moons, Vol. 1 – From the Empire is a collection of loosely connected novelettes joined by a series of continuing characters, in particularly Father Abel Nightroad, an unassuming priest whose body hides an extraordinary vampire-killing power. As the novel sometimes rhetorically asks the reader: humans eat animals and vampires eat humans, but what eats a vampire? The answer is a "Crusnik," a vampire that eats other vampires, and that's what Abel Nightroad is.
In "Flight Night," Nightroad joins stewardess Jessica Lang in a fight to save the passenger airship, Tristan, from Alfredo, Duke of Meinz, a vampire terrorist who wants to use the airship to destroy the Vatican. In "Witch Hunt," Abel protects Eris Wasmayer from both human and vampire forces that consider Eris the real monster and want to destroy her. Abel's chief opponent is his colleague, Father Tres Iqus, a colleague and android priest known as "Gunslinger," who is a nearly impossible to stop vampire killer.
In "From the Empire," Father Nightroad joins the alluring vampire undercover agent, Astharoshe Asran, to uncover a plot to ferment an all-out war betweens Terran and Methuselah. Asran is part of a small faction looking for a way to create better relations between the two powers, but another vampire, Endre Kourza, Count of Zagrev (who looks like a boy, but is centuries old), will murder his way through Venice to see that the final war between human and vampire begins. The closing story, "Sword Dancer," switches to another vampire-stomping priest, Hugue de Watteau, a.k.a. Sword Dancer," as he joins girl nun, Sister Agnes, to discover who massacred the priests and nuns at Agnes' home church.
THE LOWDOWN: The Trinity Blood original novel, anime, and manga share a basic concept, characters, and setting, but are otherwise different. Yoshida's writing isn't by any means complex or even artful (as literature goes), but is rather elegant considering its pulp sci-fi/horror subject matter.
The translation by Anastasia Moreno retains how Yoshida is vivid in terms of fashioning visual images in his readers' minds. Jai Nitz, who writes the English adaptation, captures how Yoshida is almost minimalist in his descriptive prose. Nitz is deadly accurate in being clean and precise, quickly establishing mood, setting, and action with short paragraph bursts.
THORES Shibamoto's original illustrations are included. The ink wash-like, black and white paintings are all nice, while other black and white illustrations are either good or mediocre. Practically all of them, however, serve the story quite well by giving readers visual cues as far as how someone or some particular action sequence looks.
FOR READERS OF: Fans of the hard-edged anime series should like this similarly-toned manga. This is a very good read, a sort of quick-to-read potboiler that, like the anime, is vastly superior to the Trinity Blood manga.
B+
Last Updated: June 23, 2021 - 00:45