TOKYOPOP Fiction: Scrapped Princess (Book One)
By Leroy Douresseaux
August 6, 2007 - 20:56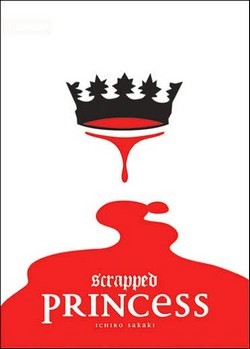 Thanks to barnesandnoble.com for the image.
SCRAPPED PRINCESS
The 511th Oracle of Saint Grendel revealed that the Queen of Linevan Kingdom would give birth to a princess with a dark fate. When she turned 16, it would be the "Day of Destiny," and the princess would usher in the apocalypse. The child-to-be-born was given a death sentence, but shortly after her birth, the infant princess was spirited away and deposited with Yuma Casull and his wife, Carol.
Fifteen years later, both Yuma and Carol are dead. They had two children before they received the cursed princess: son Shannon, a reluctant but highly skilled fighter, and daughter Raquel, a young sorceress who gets smarter and stronger with each spell she casts. It is only after their father's recent death (murdered) that his two birth children learn the truth. Their younger sister, Patricia Casull, is the legendary "Scrapped Princess," believed by many to have been killed to keep the Day of Destiny from occurring, but also rumored to be alive.
Now, assassins, mercenaries, and assorted dark forces are coming for Patricia, and the price for her returned to the King alive is quite high. Shannon and Raquel are determined to protect their sister, but for how long? The Oracles of Saint Grendel have an astoundingly high rate of coming to pass, and even Patricia must wonder if everyone would be better off if she were dead.
THE LOWDOWN: Scrapped Princess: A Tale of Destiny is the first of a 13-book series (as of this review, the third book is due this month). Written by Ichiro Sakaki with illustrations by Yukinobu Azumi (similar in style to Joe Madureira's anime-influence work), it is an adventure fantasy with moments of light comedy – mostly in the form of genial family bickering, verbal jousting, and witty repartee.
This is a juvenile novel, so the English adaptation constructs a straightforward, face-paced narrative that is easy to read, and a quite compelling read at that. Scrapped Princess is the kiddie version of a summer potboiler. While the writing isn't Philip Roth-complex, adapter Lianne Sentar composes several pages worth of engaging theory on the use of magic. Although that may have been part of the original Japanese version, Sentar certainly makes it interesting to read.
POSSIBLE AUDIENCE: Anyone looking to give a teen fantasy fiction that is fun and quick to read couldn't go wrong with this book.
B
Shop TOKYOPOP Fiction at the Amazon aStore.
Last Updated: December 31, 2019 - 20:28