Comics / Comic Reviews / More Comics
Tonoharu: Part One by Lars Martinson
By Leroy Douresseaux
March 13, 2008 - 19:01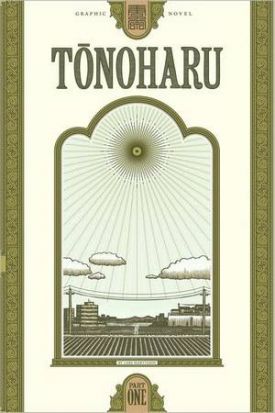 Thanks to barnesandnoble.com for the image.
One of the important things a cartoonist must figure out in the development of his/her narrative is how to create a visual structure – the merging of style, rhythm, form, and design. It is important that the structure be visually appealing, but it must also convey character, plot, setting, and mood to the reader in the manner in which the author wants.
In his new graphic novel, Tōnoharu: Part One, Lars Martinson nimbly mixes prose, detailed illustrations, and traditional comic book panels to portray the story of a young man boxed in or perhaps boxing himself in after he moves to an alien environment. This is something of a tale of a stranger in a strange land, but it is visual storytelling presented in a way that lets the reader into that new world.
Tōnoharu: Part One is the first in a planned four-volume series written and illustrated by Martinson. Tōnoharu follows Daniel "Dan" Wells, a young American college graduate who moves to rural Japan to work as an assistant English teacher. Although there are other "foreigners" in the village of Tōnoharu, where Dan lives and works at the local school, he has a difficult time connecting with them. He eventually meets Constance, a young American woman he likes very much, but she teaches in another town and seems to already have a boyfriend.
Martinson composes almost every page in a four panel grid, but rather than a sense of sameness, this visual rhythm suggests Dan's dilemma. He's lost and alone, but most of his imprisonment and isolation seems to be his own doing. Although this view may be a matter of my particular interpretation, Martinson has presented a very open narrative which allows the reader to share Dan's experience.
Of course, this may come across as a worn out cliché, but I really feel like I'm right there with Dan. The understanding and enjoyment of Tōnoharu is in that old saying, "walk a mile in a man's shoes." For all his confusion and inability to adapt (or grab his Japanese experience and force it into submission), Dan is interesting and appealing, and his teaching year in Japan will be as rewarding a read as it would be a life experience.
Last Updated: May 19, 2020 - 12:25