Comics / Comic Reviews / More Comics
The Surrogates (Volume 2): Flesh and Bone
By Leroy Douresseaux
May 5, 2009 - 12:09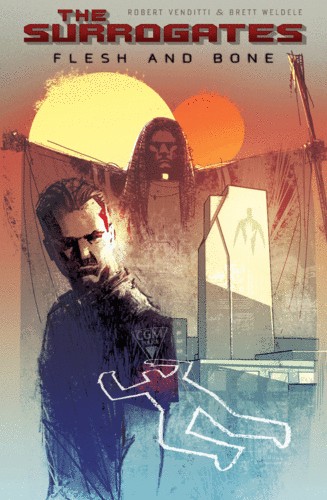 The Surrogates: Flesh and Bone cover image
In their 2005-06 miniseries, The Surrogates, writer Robert Venditti and artist Brett Weldele introduced readers to the brave new world of personal robotics, mid-21st century style. In the year 2054, people lie around in their homes and use "surrogates" (essentially a robot technology that mixes cybernetics and virtual reality). People use these remote-controlled artificial bodies to live their daily lives, including working and interacting with other people; lovers even have sex with their partners via their surrogates.
The first series focused on an unknown person or entity that was destroying surrogates. To be published as a paperback original in July of this year, The Surrogates (Volume 2): Flesh and Bone is a prequel to that original series. Flesh and Bone is set 15 years earlier, but in the same locale, the Central Georgia Metropolis, and with the same lead character, Harvey Greer, a detective for the Central Georgia Metropolis Police Department.
It's 2039, the surrogates technology is still relatively in its infancy. A teen from a privileged background and his friends pull a prank using a surrogate that leaves Zachary Hayes, a homeless man dead. Harvey Greer, at this point still a uniformed cop, finds himself brought into the murder investigation because Chattie Rooks, a street snitch Greer uses, is the sole witness to the crime.
Harvey's special assignment is to track down his informant after he disappears, but many competing interests have their own ideas about how justice and this case should play out. Those include The Prophet, an ex-con turned religious leader who is leading an anti-surrogate movement, and the conniving lawyer, Everett Sloan, the attorney for the accused. From the boardroom of Virtual Self, Inc. (the owner of the surrogate technology) and the halls of the CGMPD to the gritty streets of the metropolis and its seedy hideaways, everyone has their own designs. Harvey Greer has to complete his assignment before a city explodes.
THE LOWDOWN: Many people view science fiction as either stories that take place in space, involving aliens and other worlds and also stories that predict the future. However, science fiction often works best when it speculates rather than predicts and when it considers the human condition in the light of our changing lives and how coming events and possible advancement affect humanity.
I don't know if the surrogate technology that writer Robert Venditti presents will be available in the next 20 years (if at all), but I do know that his story depicts timeless themes and is relevant to our present time. The Surrogates: Flesh and Bone isn't so much a warning about possibility as it is a look at us – here and now. Thus, this book is more like the late, acclaimed television series and urban drama, The Wire, than it is like the 1982 film, Blade Runner. [However, one could describe The Surrogates: Flesh and Bone as "Blade Runner, but with better scriptwriting."]
I recently read an article that discussed the concept of "FUD," which is when competing political, social, and economic groups use fear, uncertainty, and doubt (FUD) to keep people confused about and detached from the political process. Using our own nation as an example, one can see that FUD makes people focus only on their own individual needs, so they become consumers rather than citizens. Meanwhile, special interests groups, economic interests, and political parties with their own designs control the levers of power for their own benefit.
Similar to this concept of FUD, Venditti presents a world of the citizen-as-consumer and of the Central Georgia Metropolis, rotten with self-interested powers and manipulative and shrew individuals like The Prophet. In such a scenario, even a nominal hero, like Greer, is ultimately powerless because he can't "save the day." He's only a smaller player serving powerful, scheming interests. Greer does the "right thing" anyway, making him heroic or at least sympathetic in our eyes. The Surrogates: Flesh and Bone is like the 1987 novel, The Bonfire of the Vanities, by the great satirist and cultural commentator, Tom Wolfe. This controversial novel also featured a hapless man in a criminal case involving competing interests, looking to serve their own needs rather than the ideals of justice and truth.
The equally smart artist Brett Weldele brings this world to visual life, not with graphic bells and whistles, but with a simple line work that displays his high draftsmanship. Most of all, Weldele's art emphasizes establishing mood and setting, defining character, moving the plot. His art works because he is a storyteller transmitting both narrative and ideas, and not simply drawing pretty pictures for his portfolio. That's a real comic book artist.
POSSIBLE AUDIENCE: Readers looking for a great work of speculative and social science fiction will find it in The Surrogates (Volume 2): Flesh and Bone.
A+
Last Updated: April 9, 2021 - 22:22