Comics / Comic Reviews / More Comics
That Salty Air by Tim Sievert
By Leroy Douresseaux
February 14, 2008 - 13:42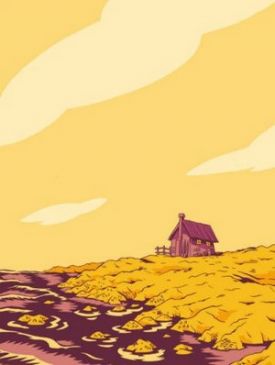 Cover art without title and lettering
That Salty Air is the debut graphic novel from cartoonist and graphic artist, Tim Sievert. This young adult book is slated for publication in April 2008.
Hugh is a young fisherman who loves the sea, but though he reveres its power, he, perhaps, doesn't quite understand that he should fear and respect the open sea both for what it gives and for what it can take away. When Hugh receives tragic news, he lashes out at everything, including his beloved sea and his devoted wife, Maryanne. Grief-stricken and seemingly driven mad by his desperate need for revenge, Hugh charges out in his boat to battle the sea. While Hugh tries to destroy himself and the animals that live off the sea, something big is coming for him, but Maryanne is determined to save Hugh and his way of life even at the cost of her own life.
That Salty Air has a profound message of personal maturity and also responsibility to that which we love, but Sievert presents it with slyness and subtlety that belies his age. I'm not ready to buy that a 24-year-old can present what on the surface looks to be a simple tale, but at its heart is a universal narrative so appropriate for these times (like last year's Fox Bunny Funny). That Salty Air calls to us at a time when we as humans must seriously consider what we've done to our planet.
Sievert's graphic narrative begs us to consider our actions – to think when we would unleash our raw unchecked emotions like a petulant child. That Salty Air isn't a screed against grief or sorrowful feelings, but instead offers this lesson: that in our pain of loss we remember love. Hugh cannot escape the consequences of his destructive actions even after "wising up," but redemption and the love and forgiveness of his wife makes him realize all that he loves.
It's heady stuff to accept that a debut work could delve so deeply into man's conflicts within himself and with nature. Rather than being a poor man's Moby Dick, That Salty Air is a grand look at a man grappling with the realization that life is bigger than just his existence and happiness.
Last Updated: May 19, 2020 - 12:25