Tantric Stripfighter Trina: Volume 1
By Leroy Douresseaux
March 17, 2009 - 11:12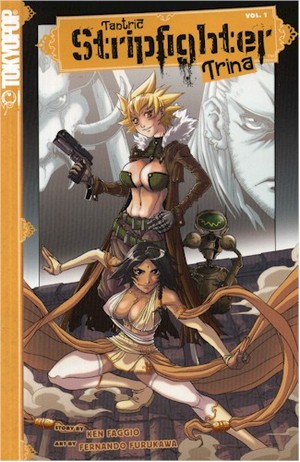 Tantric Stripfighter Trina 1 cover image is courtesy of Anime Castle Books.
Action/Sci-Fi; Rated "OT" for "Older Teen-Age 16+"
Tantric Stripfighter Trina, Vol. 1 launches the latest OEL manga from TOKYOPOP. Written by Ken Faggio and penciled by Fernando Furukawa, this series focuses on a young woman who takes on an evil space federation in her quest to discover the origins of an act of genocide against her people
Trinadma Sambhava Devi, better known as Trina Devi, watched her sister and her people, the Tantrika, slaughtered before her eyes. To avenge her people, Trina put their fighting technique, known as "stripfighting" (a fusion of Shaolin martial arts and "tantric sensuality") to good use. With the aid of her talkative robot assistant, Bond, Trina works for the Chimera Jumper Retrieval Service, a bounty hunting company and uses her job to find the men who orchestrated the assault on her planet, Rama.
Trina reluctantly joins forces with Abigail Chromantsky AKA Chrome Abbey, a former adversary, as they scour Terran space for the murderers and also avoid the forces of the combined intergalactic government, the Crown (the ruling class) and the Cog (its religious arm). But someone is also hunting Trina. Cog Inquisitor Titus Braille will do anything to capture Trina, and he also may hold the secret to the attack on Rama.
[This volume also contains a generous section of behind-the-scenes, pre-development, and sketchbook material.]
THE LOWDOWN: TOKYOPOP has published much OEL manga (manga that is originally English instead of Japanese). Some of it has been interesting; some of it has been well executed or poorly realized. Tantric Stripfighter Trina falls somewhere in the middle. Ken Faggio's concept gathers ideas from a vast landscape of sci-fi media. The story seems like Star Wars, but reads as if it could be inspired by the European science fiction and fantasy found in Heavy Metal magazine. In fact, while reading it, I often thought that it looked like a manga-inspired Heavy Metal piece.
The characters are likeable, but some are a bit stiff because they're more back story than personality. The standout character is, of course, Trina Devi. Trina comes across as a new version of the "River Tam" character played by actress Summer Glau in the late television series "Firefly." Trina's passion and her conflicted feelings about the methods she must now use feel genuine. Trina is a character strong enough to carry a series.
The art by Fernando Furukawa is rich in the kind of detail that a space opera, action sci-fi comic book needs. What his drawing skills may be missing in terms of draftsmanship and what his narrative art lacks in terms of composition, Furukawa compensates with an energetic, eye-catching style that is like a drug. You'll feel compelled to follow the action, drawn by an artist who shows all the signs of being a major talent in the not-too-distant future.
POSSIBLE AUDIENCE: Readers who want fights, exotic locales, and space opera will find it in Tantric Stripfighter Trina.
B+
Last Updated: June 23, 2021 - 00:45