Comics / Comic Reviews / More Comics
Surfside Girls, Book One: The Secret of Danger Point comics review

By Leroy Douresseaux
July 24, 2017 - 20:58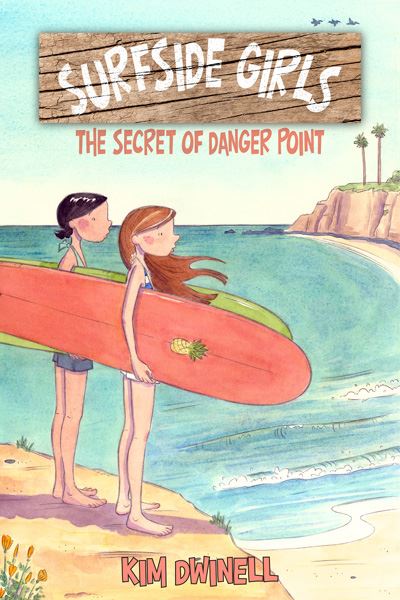 Surfside Girls, Book One: The Secret of Danger Point cover image
Diamond Order Code: APR17-0634

Rating: Ages Middle-grade (8 to 12 and up)
Surfside Girls, Book One: The Secret of Danger Point
is a 2017 full-color graphic novel from cartoonist, animator, and educator,
Kim Dwinell
. The first in a new series of graphic novels,
The Secret of Danger Point
focuses on two middle school girls who find ghosts, strange creatures, and a hometown conspiracy during their summer vacation.
Surfside Girls, Book One
opens during the height of summer in the sleepy west coast beach town of
Surfside
. We meet 12-year-old
Samantha Lynn "Sam" Taylor
and her best friend,
Jade Lee
. Lately, Jade always seems to be in a fit of giggles whenever she is around boys, and Sam thinks that this is ruining their summer plans to surf and hang-out.
While having fun on the water, Sam discovers a secret underwater cave that surprisingly leads to the cliff-side area known as "
Danger Point
." Sam is even more shocked to discover that Danger Point is occupied by ghosts! One of the spirits,
Mr. Jian Wu
, insists that it is Sam's "duty to do what needs to be done." What is he talking about?! Well, Sam needs Jade's help if they are going to get to the bottom of this mystery in time to save their town.
THE LOWDOWN:
One of the defining moments of my young life was the discovery of the classic Saturday morning animated television series, "Scooby-Doo, Where Are You!" (1969). It began a life-long love of mystery fiction, as I moved from youthful mystery to adult stories of crime and mystery-solving. However, part of me has never let go of Scooby-Doo and mysteries with a supernatural bent.
Surfside Girls, Book One: The Secret of Danger Point
recalls Scooby-Doo and his pals (known as "Mystery Inc."), as well as other classic Hanna-Barbera Saturday morning cartoon kid-detectives. Dwinell's heroines, Sam and Jade, are the plucky, resourceful, meddling kids who never take "No!" for answer and also do what they have to do to get around their parents' admonitions.
The Secret of Danger Point, however, is true and pure comic book. Kim Dwinell's page design and layout is perfect just about every page. Panel size and type is just right. Pages 92 and 93, which recount young pirate Robert's life, are good examples of how design and layout can evoke feelings and emotions in the readers, as well as tell them a story.
Sam and Jade are sparkling, likable characters, the kind young readers will want to follow. Very few of the supporting characters seem extraneous, and everything in and around the town of Surfside is worth discovering – from beaches and secret caves to neighborhoods and the town square. These are the ingredients of a great summer graphic novel read, and the sunny colors Dwinell uses in her art could chase away the chill during a winter read.
There is a timeless quality to The Secret of Danger Point. It is set during a summer vacation that feels endless in a place that is perfect for an endless summer vacation, with supernatural mystery-solving thrown into the mix. I highly recommend The Secret of Danger Point... for all ages.
I READS YOU RECOMMENDS:
Readers looking for perfect summer comic book reading will want
Surfside Girls, Book One: The Secret of Danger Point
.
A
9 out of 10
www.topshelfcomix.com
Rating: 9 /10
Last Updated: April 9, 2021 - 22:22