Strawberry 100%: Volume 10
By Leroy Douresseaux
October 6, 2009 - 18:44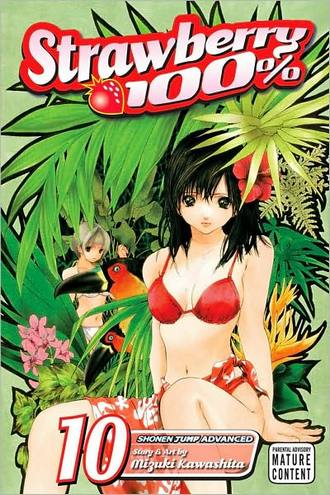 Strawberry 100% Volume 10 cover image is courtesy of barnesandnoble.com.
Rated "T+" for "Older Teen"
Junpei Manaka snuck up to the roof of his school where he startled a mysterious beauty. She ran away, but he caught a glimpse of her strawberry-patterned panties, which sent him on an odyssey to find the beautiful owner of those delicate undies. Now, a high school student and aspiring filmmaker, Junpei's search for the mystery girl led him to Aya Tojo and a pack of girl troubles.
As Strawberry 100%, Vol. 10 (entitled Chinami Fever) opens, it is school festival time at Izumizaka High, and Junpei and the Film Club are ready to show their film. However, not everyone is excited about the debut of Junpei's new movie, and these mysterious haters are ready to play saboteurs. Sabotage pales, however, in comparison to the next development. A new female student, Chinami Hashimoto, has suddenly appeared on the scene at Izumizaka High, and she is the worst tease. The boys like it; the girls hate it. But it's just more girl trouble for Junpei.
THE LOWDOWN: One can certainly view Strawberry 100% as a sexy romp, something like the 1979 film, 10. Here, Junpei Manaka plays the Dudley Moore role as a male whose life is thrown into confusion by a beautiful woman. As much as I like the new character, Chinami Hashimoto, she is almost overkill for a series already packed to the gills with plump-bottomed, ample-bosomed girls. An impious tease with seemingly supernatural flirting abilities, Chinami deserves her own series, or perhaps, she could play the co-starring role in another. I'm curious to see where creator Mizuki Kawashita goes with this character. Otherwise, this volume offers more of the same – fun fanservice hijinx.
POSSIBLE AUDIENCE: Readers looking for the naughty bits may want to try Strawberry 100%.
B+
Last Updated: June 23, 2021 - 00:45