St. Dragon Girl: Volume 2
By Leroy Douresseaux
March 27, 2009 - 11:07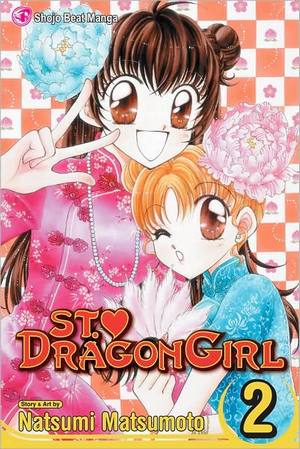 St. Dragon Girl Vol. 2 cover is courtesy of barnesandnoble.com.
Rated "T" for "Teen"
Sixteen-year-old Momoka Sendou is a top martial artist, and her childhood friend, Ryuga Kou, is a Chinese magic master who specializes in banishing demons. In order to increase his power, Ryuga summoned the spirit of a dragon to possess him, but the spirit entered Momoka instead. Now, Momoka (who is nicknamed "Dragon Girl") and Ryuga band together to fight mischievous and devious demons.
In St. Dragon Girl, Vol. 2, Momoka sees only obstacles between her and Ryuga, but does Ryuga see it that way? First, there's evil to stop. A death omen invades the good times at the Kenpo Club's training camp, so can Momoka and Ryuga stop its "murderous aura" when Ryuga becomes one of the people the omen has possessed? Next, a devious fortune teller has Momoka doing all the wrong things when it comes to Ryuga. Then, it's a case of kissing cousins when Ryuga's cousin, Raika Kou, transfers to their school and declares her intention to marry Ryuga.
THE LOWDOWN: In my review of the first volume of St. Dragon Girl (stylized as St. ♥ Dragon Girl), I wrote "Magic, martial arts, and love: these are the ingredients manga-ka Natsumi Matsumoto transforms into the flavorful shoujo brew, St. Dragon Girl…" I'm officially drunk on that brew. I loved reading the stories in this second volume so much that I'm going to have to immediately read something macho and filled with bloody mayhem just to regain some masculine balance. Who knew that combining typically super-pretty shojo manga art with demon-fighting would make such a fun read? Apparently creator Natsumi Matsumoto did, and the result is a surprisingly entertaining manga
POSSIBLE AUDIENCE: Teen readers who enjoy "Shojo Beat" titles will likely enjoy St. Dragon Girl, but older readers will certainly find something to like.
A-
Last Updated: June 23, 2021 - 00:45