Stand by Youth: Volume 1
By Leroy Douresseaux
August 23, 2007 - 15:11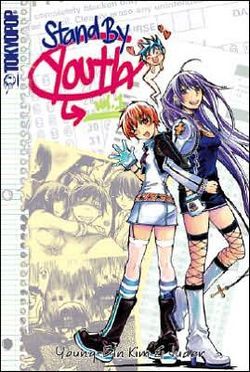 Thanks to barnesandnoble.com for the image.
Stand by Youth

, Vol. 1
is a manhwa (Korean comics) title by the team of writer
Young-Bin Kim
and artist
Juder
, which deals with teenage insecurities, post-high school dilemmas, and secret crushes.
When Hyungmo Yang fails his college entrance exams, he has no choice but to enroll in exam school. Although he had some of the highest grades in school, he panicked during the entrance exams, and now, his parents have the added financial burden of paying for what is essentially another year of high school. Hyungmo's entrance test scores were so low that he finds himself placed in the "D Class" at exam school.
Hyungmo doesn't fit in, especially with the bullies and thugs that occupy D Class. Meanwhile, Mina, his childhood friend, has made it into college, but spends much of her early college career drinking and carousing. She claims interest in Hyungmo's career, but he's suspicious of her, as he is also with another high school chum in exam school, Jaeyoung Suh. There is, however, a silver lining when Hyungmo meets Sora. Beautiful and thoughtful, she's just the kind of girl someone needs when he or she is having a bad time, but Sora has some dark issues of her own circling her head.
THE LOWDOWN: What really drives Stand by Youth as a compelling drama is resonance. Everything about it feels genuine and familiar. The plot about a boy who essentially fails high school hits close to home for this title's targeted readership. The family drama and dynamics work as if Hyungmo and Sora's families were real. Just the sequence with Hyungmo's grandmother during a memorial dinner rings with truth the way many scenes in the film, My Big Fat Greek Wedding, do.
POSSIBLE AUDIENCE: This strong comedy, drama, and romance should be a robust contender in the Young Adult (YA) market.
B+
Stand for shopping at the Amazon aStore.
Last Updated: June 23, 2021 - 00:45