Speed Racer: Mach Go Go Go: Volumes 1-2
By Leroy Douresseaux
May 8, 2008 - 15:54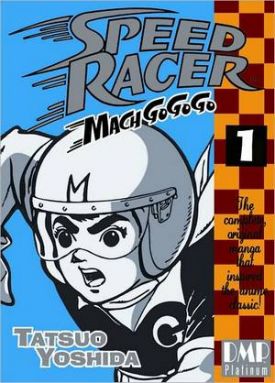 The final version of the book jacket does not include the checker pattern.
Just in time for Warner Bros. shortly-arriving Speed Racer movie, Digital Manga Publishing (DMP) is presenting, for the first time in the United States, the original Speed Racer manga in its complete form. Published in the early 1960's under the original title, MachGoGoGo, Speed Racer was created by anime pioneer, Tatsuo Yoshida, and produced by his anime company, Tatsunoko Studios. In 1967, Tatsunoko transformed MachGoGoGo into the animated series that we know as Speed Racer.
DMP has restored and collected MachGoGoGo in a hardcover, 2-volume set (which comes in a slipcase), entitled Speed Racer: Mach Go Go Go, Vols. 1-2. In a sense, this is also a celebration of Speed Racer's 40th anniversary, and this deluxe set will introduce readers to beloved characters like Speed Racer, himself, as well as the mysterious Racer X, Trixie (Speed's chaste girlfriend), Spritle (Speed's little brother) and Chim Chim (Spritle's pet chimp), among others. This special edition set also includes an introduction by Peter Fernandez, who provided the voice of Speed in the English-dubbed version of the show.
The truth of the matter is that I've never been interested in reading Speed Racer the manga (which has been reprinted in the past by defunct publisher NOW Comics and Wildstorm Productions, among others) for its story, nor am I a fan of the anime. The manga reads like a blend of a Dell Comics TV adaptation and a Golden Age superhero comic. I read the manga to look at the fantastic, snappy comic art.
Speed Racer is about sleek jet-like race cars, weird villains and peculiar protagonists, kinetic panels where action lines dance around fast cars, outlandish backdrops and exotic locales. It's an eccentric action/adventure epic with sci-fi/fantasy trappings; it's Steve McQueen meets James Bond meets Josie and the Pussycats. I love it, and for whatever reasons you love Speed Racer, DMP's deluxe hardcover set, Speed Racer: Mach Go Go Go is to date the most-welled produced and designed presentation of the original Speed Racer manga. If you think Speed Racer is a classic, you'll agree that this is the respectful way to present it.
Last Updated: June 23, 2021 - 00:45