Short Sunzen!: Volume 1
By Leroy Douresseaux
February 13, 2008 - 10:48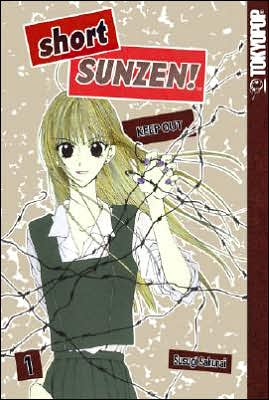 Thanks to barnesandnoble.com for the image.
At
Tama High
,
Satsuki Kurokawa
is rather rough and tumble. She is more like a boy than a girl, and some would even compare her to a gang member. However, Satsuki discovers her sweet side when she meets the handsome, cool, and smoldering
Aya Sendo
. Satsuki doesn't catch on that Sendo is crazy in love with her, and she thinks that all she really wants Sendo's friendship. Or does she really want more?
The concept of Short Sunzen! is actually good, and the set up and interplay of the leads as presented in the Vol. 1 are nice. However, the art by Susugi Sakurai is amateurish as far as the actual drawing goes. The page layout is horribly jumbled, and the content within the panels is often even more jumbled. These problems with the visual storytelling simply become a kind of intense static interference between storyteller and audience. Short Sunzen! is cute in a way; it's more like the kind of comics that a high school student might draw in her notebook than it resembles something released by a major publishing house.
C
Last Updated: June 23, 2021 - 00:45