Heaven!!: Volume 1
By Leroy Douresseaux
August 15, 2007 - 16:25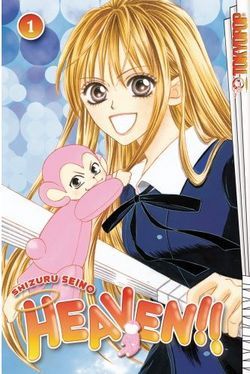 Thanks to Amazon.com for the image.
Rinne Ito is a teenaged medium, but not only can she see ghosts, she can also exorcise them by swatting the spirits with her harisen (fan). Rinne herself is saved from becoming a ghost by Masaharu Uzaki, the school bad boy/thug, but the brave act lands Uzaki in a coma. Although he isn't dead, his soul becomes a disembodied spirit, and neither he nor Rinne can figure out how to return his spirit back into his body.
In the meantime, Keiju, a young god with a playboy's mentality, sees an opportunity and takes possession of Uzaki's body. While Keiju romps around Rinne and Uzaki's high school romancing all the girls, Uzaki's spirit ends up inside a stuffed, pink-colored monkey. Uzaki expects Rinne to help him get his body back by using her harisen to remove Keiju, but the girl is smitten by the quixotic deity. Also, the new Uzaki is so much better than the old that even his family isn't missing him. Hilarity ensues.
THE LOWDOWN: With Heaven!!, Vol. 1, manga-ka (creator) Shizuru Seino has created an excellent high concept comic romp. Seino mixes slapstick comedy and girlish romance that makes for a pleasant blend of light fantasy and teen romance with lots of physical comedy. Still, for all the rich potential this concept offers, the actual manga isn't quite as good as it could be, but it may get there.
POSSIBLE AUDIENCE: This is a pure manga title aimed squarely at shojo (girls' comics) fans.
B
Buy a little bit of heaven at the Amazon aStore.
Last Updated: June 23, 2021 - 00:45