Shakugan No Shana: Volume 4
By Leroy Douresseaux
July 13, 2009 - 13:57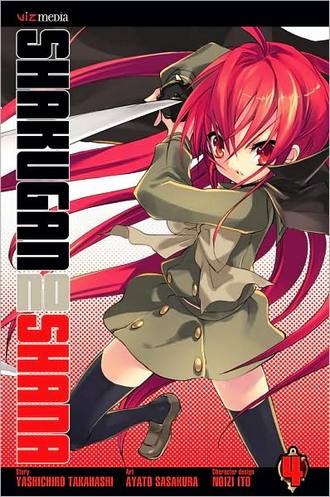 Shakugan No Shana Volume 4 cover is courtesy of barnesandnoble.com.
Rated "T+" for "Older Teen"
The Shakugan No Shana manga series is based upon the novel of the same name by Yashichiro Takahashi. Manga-ka Ayato Sasakura produces this manga (which is part of a line of media spawned from the novel) based on Takahashi's stories and Noizi Ito's character designs. The series focuses on Yuji Sakai, a high school age boy drawn into a conflict between the fighters for balance, the Flame Haze, and the fighters against balance, the Crimson Denizens. Yuji's partner is a Flame Haze that he names "Shana."
In Shakugan No Shana, Vol. 4, a sinister new Flame Haze, Margery Daw, arrives in town. With her Lord, Marcosias, at her side, Margery is tracking the Crimson Denizen, Lamies the Corpse Hunter. Shana becomes aware of Margery once the new arrival begins to flex her powers, and the two engage in an epic fight – seemingly to the death. Meanwhile, Yuji actually encounters Lamies, who explains himself and the reasons behind his actions.
THE LOWDOWN: Featuring spectacular battle scenes drawn in a hyperactive, impressionistic style, Shakugan No Shana captures the kinetic energy and frenetic style of anime. Not only is this a fight comic; Shakugan No Shana is an action/fantasy that offers playful high school romance, puppy love, and light fan service. This fourth volume is also a good one for new readers, as the mythology of this series is explained at particular points in the chapters herein.
POSSIBLE AUDIENCE: Fans of wild fight scenes in which the combatants launch huge piles of energy at each other will like Shakugan No Shana.
B+
Last Updated: June 23, 2021 - 00:45