Sayonara, Zetsubou-sensei: Volume 1
By Leroy Douresseaux
February 23, 2009 - 10:54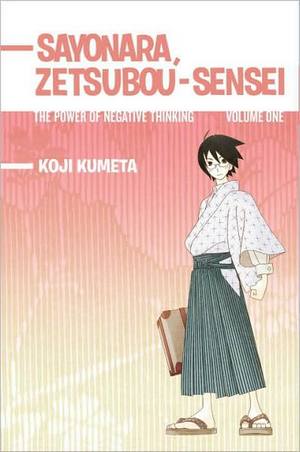 Sayonara cover image is courtesy of barnesandnoble.com.
Rating "OT" for "Ages 16+"
Many people have expressed wonder that the late Charles M. Schulz not only created a newspaper comic strip about a depressed boy, but he also created such a strip that became a sensation. That strip, Peanuts, was a worldwide hit that continues to captivate untold millions over multiple media platforms to this very day.
In Sayonara, Zetsubou-sensei: The Power of Negative Thinking, Vol. 1, readers discover a new comics work with a depressed protagonist, the suicidal teacher Nozomu Itoshiki. Although he is constantly trying to kill himself, Itoshiki has something for which to live – a class room full of unique students who all adore him. There's the "super-positive girl, Kafuka Fura, who drives teacher crazy with her insistence on putting a positive spin on even the most awful situations. Kiri Komori is a hikikomori girl – a shut whom Itoshiki and Kafuka finally get to leave home, only to have her become a shut-in who never leaves her new room at school.
With others including "poison email girl," the anal "methodical and precise girl," and "super-love-obsessed stalker girl," why wouldn't Itoshiki want to hurt himself?
THE LOWDOWN: I didn't know what to expect of Sayonara, Zetsubou-sensei, especially considering its premise, but I actually enjoyed it. Creator Koji Kumeta's ability to come up with a new eccentric student with a pet peeve or hang-up practically for each chapter is impressive. In a way, Kumeta's skills at coming up with weird characters is similar to the talent of Akira Amano, who constantly invents bizarre new characters for his manga Reborn!, which like Sayonara, Zetsubou-sensei, is an episodic comedy. Unlike Amano, though, Kumeta is not particularly strong at giving each character a look that is different enough from every other player. That makes this manga sometimes feel a bit repetitive.
POSSIBLE AUDIENCE: Although rated for older teen readers, Sayonara, Zetsubou-sensei's style of comedy and the level of execution of the stories make it practically perfect for a junior high school audience.
B
Last Updated: June 23, 2021 - 00:45