Sanctuary #1
By Leroy Douresseaux
March 31, 2012 - 21:35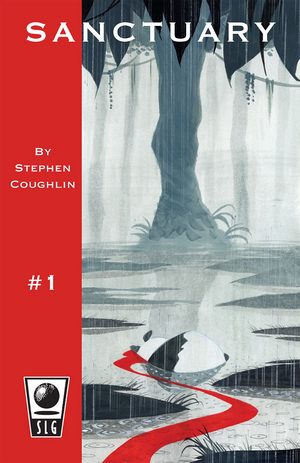 Sanctuary #1 cover
Sanctuary is a funny animal comic book series from cartoonist Stephen Coughlin and published by SLG Publishing. According to the publisher, Sanctuary is part of its digital comics initiative. This title (like others) is available in the .pdf, .cbz and .epub formats and is recommended for owners of the iPad.
Sanctuary #1 ("Fresh Meat") opens on a secluded island that is home to a research station and a game reserve (or "sanctuary"). There, the animals, which include white gorillas, giraffes, lions, and tigers, are as smart as the human researchers observing them. Readers learn of a shocking method that the scientists use to control the animals, and they will be equally surprised at the conflicts and intrigue among the animals. The newest arrival at the sanctuary is a panda that is getting all the attention – some of it not good.
THE LOWDOWN: I read Sanctuary's third issue before I read this first issue. At the time I reviewed issue three, I noted that it reminded me of Fantagraphics Books' late funny animal anthology series, Critters, and that Sanctuary would have been a good fit for this pivotal anthropomorphic comic book.
Going back to the beginning of the series, I'm struck by how much Sanctuary reads as if it were a comic book version of the modern television police procedural. Sanctuary is a murder mystery, and creator Stephen Coughlin gives his readers a mysterious prize package full of intrigue and ambiguity. Every character has selfish motivation, so in the end, each one is capable of gaining something that also takes something away from someone else. In Sanctuary, everyone is a suspect even if he or she is not a murderer. At .99¢, this kind of whodunit fun is a real bargain.
POSSIBLE AUDIENCE: Readers looking for something different and something good will want to try Sanctuary.
http://www.slgcomic.com/Sanctuary_c_269.html
Last Updated: June 23, 2021 - 00:45