Comics / Manga / Yaoi Manga
Sanae Rokuya's RED (Yaoi Manga)
By Leroy Douresseaux
May 7, 2008 - 10:33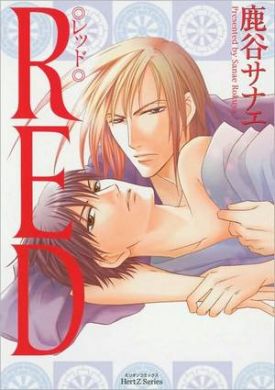 In the June Manga edition's cover, only the cover painting and title will remain.
Drama/Romance; Rated "YA" for "Young Adults 16+"
Yasuharu was unwilling to assume the responsibility of succeeding his father to the throne, so he escaped the castle with the help of a loyal retainer, Montonga Yasuda, and they live a peaceful, anonymous life in a rural town. Yasuharu, however, cannot escape his fate. His father is dying, and the Inner Minister seeks the throne. First, he needs to make sure the prodigal Prince Yasuharu doesn't return, so he sends the assassin Jiei to kill him. The question becomes will the Yasuharu, Jiei, or any of their associates, for that matter, carry out their destinies.
Red by Sanae Rokuya ( King of Debt) is a sort of teen-appropriate yaoi manga. Instead of explicit sex between male characters, it features passionate embraces and tongues probing mouths with the prerequisite saliva splashes. Red isn't very intense when it comes to lust or love, for that matter. It's really an elaborate (or perhaps torturous) epic about the deep bonds between a small group of men protecting and then encouraging each other to accept the fates and destinies that they have avoided for so long.
Red would really be quite pedestrian if not for Rokuya's drawings of tall, strapping, handsome young men… with great, wavy hair.
B-
Last Updated: June 23, 2021 - 00:45