Takehiko Inoue's Real: Volume 5
By Leroy Douresseaux
July 26, 2009 - 15:27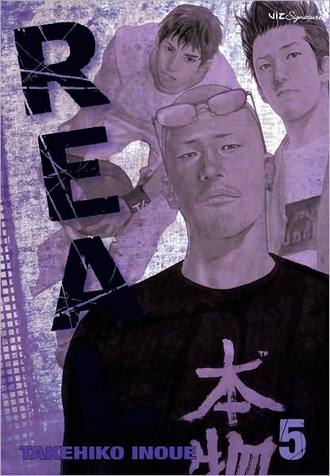 Real Volume 5 cover image is courtesy of barnesandnoble.com.
Rated "T+" for "Older Teen"
Tragedy brings three different young men together, all of them united by their love of basketball. Cancer took his leg; now, Kiyoharu "Vince" Togawa plays wheelchair basketball. Hisanobu Takahashi is a natural athlete, smart student, and all-around popular guy, but now, he is a paraplegic. Tomomi Nomiya is a high school dropout dealing with the guilt of paralyzing a young woman in a traffic accident.
Real, Vol. 5 finds three young men at a crossroads. Two find the right path, but another doesn't know where life is taking him. Tomomi Nomiya finally gets his driver's license, so he visits Natsumi Yamashita, the girl paralyzed in an accident caused by Nomiya. He wants to take her for a Sunday drive; talk about gall, but will she accept?
Takahashi Hisanobu moves on to the next stage of his rehabilitation. Will a return trip to his old school, Nishi High, help of make things worse? Finally, Vince's wheelchair basketball team, the Tigers, gets a new teammate – a huge, wrestler-like Japanese ex-pat who spent time in Australia. Now, Mitsuru Nagano is ready to take the Tigers to the next level, if Vince will accept him.
THE LOWDOWN: With his beautifully detailed line art, manga-ka Takehiko Inoue creates more real drama than many prose novelists can squeeze out of hundreds of pages and many film directors can get with the finest actors. Pathos walks hand in hand with the small victories in life, and readers can't help but walk behind a narrative that makes real life such an appealing spectacle. Comic books aren't supposed to depict reality with so much authenticity, but those in the know, know better.
POSSIBLE AUDIENCE: Readers looking for a compelling read that won't let go of their imaginations will want Real.
A
Last Updated: June 23, 2021 - 00:45