Comics / Manga / Yaoi Manga
Hyouta Fujiyama's Pure Heart 1
By Leroy Douresseaux
March 27, 2009 - 09:17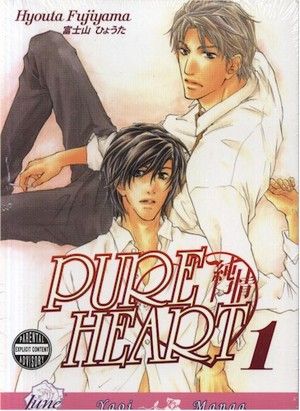 Pure Heart 1 cover image is courtesy of Anime Castle Books.
Drama/Romance; Rated "M" for "Mature Audiences 18+"
In Pure Heart, Vol. 1, the beginning of a new yaoi manga series by Hyouta Fujiyama (Sunflower), a young man meets his high school crush and starts a relationship with him that is purely physical.
Keisuke Tozaki is a freelance writer, who through a graphic design assignment meets Shousei Kurata, a former high school classmate. Tozaki had a big crush on Kurata, but Kurata, a popular athlete, transferred to another school before Tozaki and he could be friends. Kurata shocks Tozaki by telling him that he knew Tozaki had a crush on him. The two strike up a physical relationship, but as much as Tozaki's body lustily responds to Kurata's physicality, he's also developed romantic feelings for his old classmate. Kurata apparently only wants the sex, and frequently forces himself on Tozaki in a series of trysts that are both passionate and humiliating for Tozaki. But another school chum of Tozaki's is about to enter the scene…
Boys' love manga depicts romantic relationships between men, but yaoi manga (a subset of boys' love) adds graphic depictions of sex to the mix. Readers will certainly get their randy yaoi delights in Pure Heart, but the graphic depictions of sex (of which there are several) are nothing compared to the scandalous games these characters play with each other. Talk about getting in someone's head. Manga-ka Hyouta Fujiyama has created a study in selfish motivation. No character can really play the victim, even Tozaki. The decisions that the characters here make are based solely on how to get what they want – which is usually sex, even if it means discomfort and inconvenience.
Her stylish art, with its swift brushstrokes, perfectly delineates the adventures of these lusty, conniving boys, and adds some cold calculation to this Pure Heart. Readers will enjoy this spicy romance.
A-
www.digitalmanga.com
www.akadot.com
Shop for Yaoi Delights.
Last Updated: June 23, 2021 - 00:45